I'm sure I've mentioned this before, but I love decorating for the seasons using lots of my kids' artwork. Our first fall craft project this year is a paper acorn garland, made from lunch bags and colorful patterned paper. This acorn garland is the perfect decoration to take you from the first day of fall, all the way through Thanksgiving. In November, we might even write what we're thankful for on these same acorns!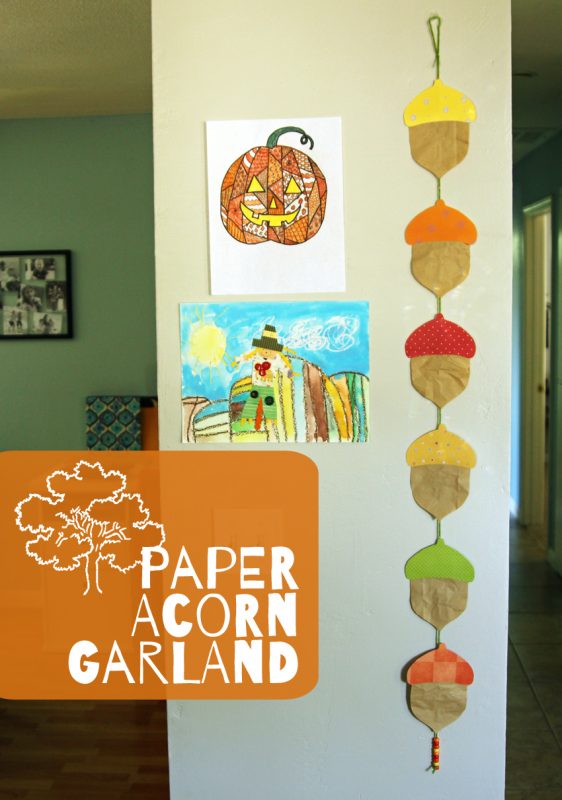 Paper Acorn Garland
paper lunch bags
patterned paper in fall colors
yarn or string
beads
glue stick
scissors
Start by making some simple stencils to trace around – an acorn bottom and an acorn cap. You can prep these ahead of time for your kiddos, or make stencils from your child's own acorn drawing.
Trace and cut the acorn bottom pieces from paper lunch bags. Since lunch bags are so thin, it's easy to cut through multiple layers at once. I cut the bottom off the bag, folded it in half, and cut 4 acorns out at once.
For a little texture, gently crumple and smooth the lunch bag acorn pieces. My toddler loved helping with this part! Just cut some extras in case they get ripped. I showed him how to squeeze the acorn in one hand, then smooth it flat again on the table.
Trace and cut the acorn caps from an assortment of colored, patterned papers. You could also cut the caps out of white paper and decorate with crayons, markers, or paints.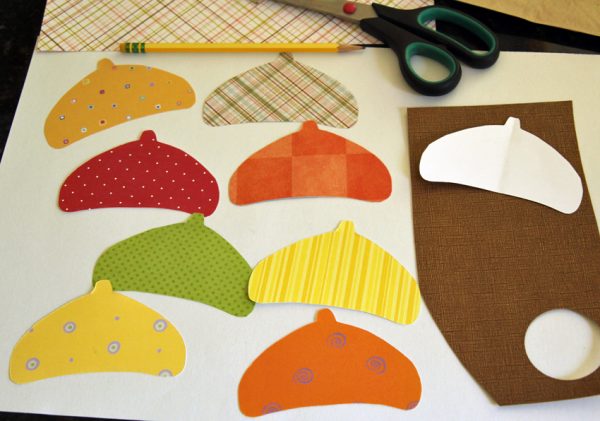 Glue a cap onto each acorn with a glue stick.
Look at this pile of colorful acorns – time to make them into a fun hanging decoration for autumn!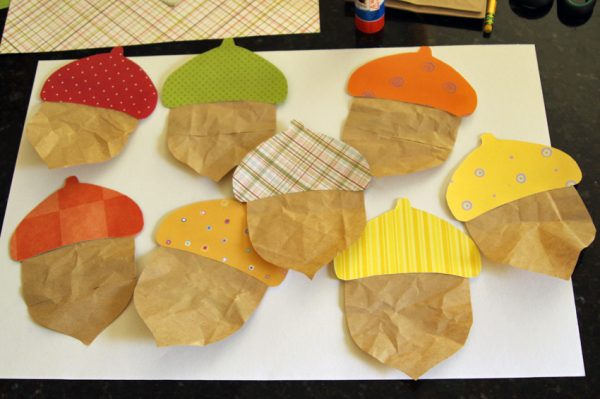 Cut a long piece of yarn or string, and tie a hanging loop at the top. Tape the yarn to the back of each acorn, making a vertical hanging garland. I used two pieces of tape to secure each acorn.
Once the acorns are attached to the yarn, finish the yarn tail with some beads. String on the beads, tying the yarn in a double-knot around the last bead. Trim off any extra yarn.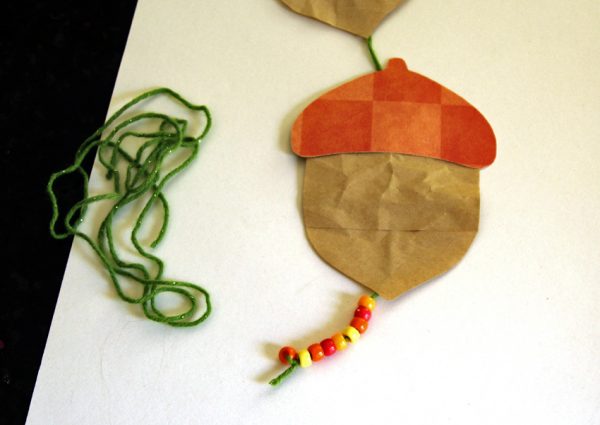 Find the perfect spot to hang up and enjoy your cute acorn garland. I'll probably keep mine hanging in the entry most of the season, but I do love how festive it makes our front door look!