I love working with paper towel tubes. And stamping with them is fun, they make such cool shapes and are super easy for little hands to hold. Today, we're making stamped snowmen for a silly winter kids craft!
Supplies for Paper Tube Stamped Snowmen:
paper towel tube
plate for paint
heavy cardstock paper, any color or size
white or silver paint
black, orange and red paint
thin paint brush for details
1. Pour some of your white paint onto your plate. Dip your paper tube into the paint, making sure the whole circle gets paint on it it.
2. Stamp your painted circle onto your paper. You'll want to do this a few times in a line, overlapping, to create the snowman look.
3. With your other paint colors and thin paint brush, give your snowman a hat, a face, hair, a scarf, buttons, etc.
We even named our snowman "Frank".
My daughter made a snowprincess, of course, with long yellow hair – "just like me"!
You can use all kinds of paint colors for your snowman circles, silver is cool, or pearly white. I also made a fun picture with stamped circles all over the page to represent snowballs falling.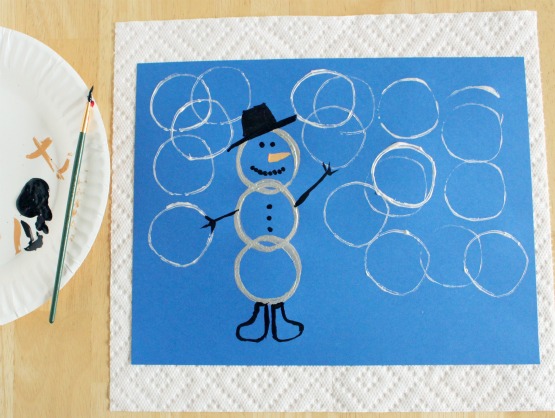 The creative possibilities are endless! Have fun crafting for winter!