A hook rack is a useful addition to any child's room. Why settle for a boring white hook rack from the store? With some fun patterned paper and a few supplies, you can work together to craft a personalized hook rack that fits your child's personality and adds some fun to the bedroom wall.

Supplies for a Personalized Hook Rack:
Wood board, cut to size of your choice and edges sanded
Scrapbook paper
Mod Podge glue
Foam brush
Sandpaper (fine grit)
Hooks
Screws
Drill
Screwdriver
Start with a board cut to size for your project. Our board is 2.5″x12″, and about an inch thick. Choose and cut a piece of scrapbook paper (or other patterned paper) to fit the board. The paper is what makes this hook rack special, so let your child choose something that reflects his/her interests or style. You could even use a piece of your child's artwork! My daughter chose this fun constellation paper for her hooks.
With a foam brush, apply an even layer of Mod Podge to the board. Place the paper on the board, and press and smooth the paper. Let dry for 10-15 minutes. Then brush 2-3 coats of Mod Podge on top of the paper, allowing the paper to dry in between coats. We put a layer of Mod Podge on the edges of the board, too.
Once the board is completely dry, use a fine grit sandpaper to gently clean-up the edges and sand-off any extra paper.
Measure and mark the spots for the hooks. My daughter used a ruler to make sure her hooks were evenly spaced, and marked the hole for each hook with a pencil.
Drill a small pilot hole for each screw. The parent can do this part, or take this opportunity to teach your child how to use a drill!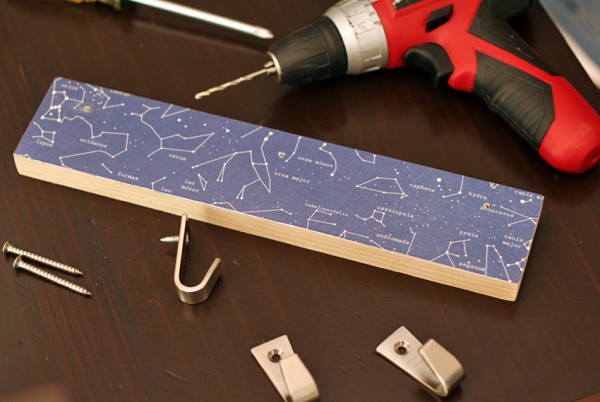 We attached the center hook with a short screw, and used long screws for the two outer hooks. That way, we could attach it right to the wall with those longer screws. You may want to use drywall anchors to make sure it's secure.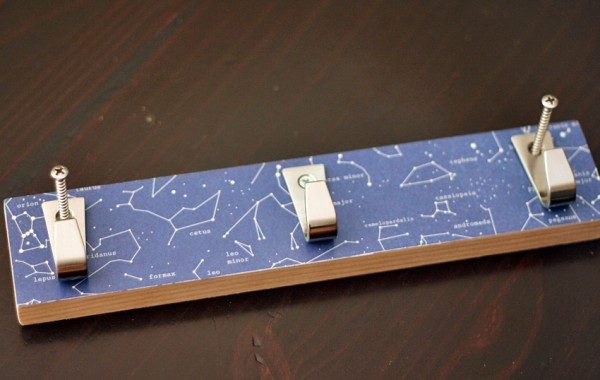 Attach your hook rack to the wall, and find some stuff to hang on it! Baseball caps, purses, cameras, sweatshirts, scarves, and necklaces are all at home on this hook rack. Such a fun and useful addition to your kiddo's room!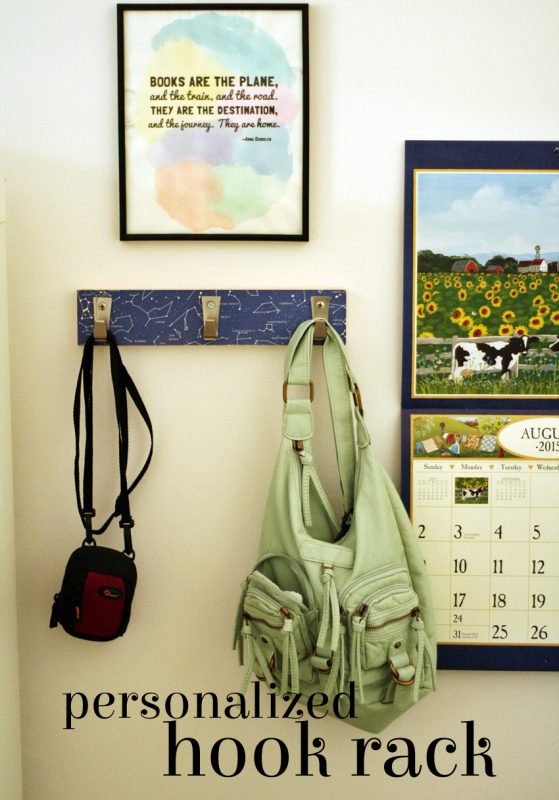 Want more ideas? Here's a fun Mod Podge Photo Transfer project to make!