Round up your gold and treasures, it's time for a Pirate Birthday Party! We've gathered up a few ideas to help your party goers become the best kind of pirate captains on the stormy seas. Ahoy, Me Hearty!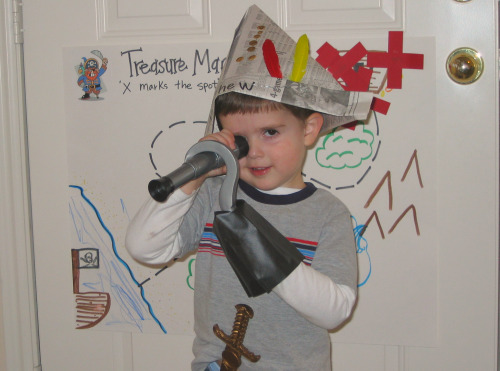 Invitation:
Arrr Matey! You've been invited to walk the plank at (child's name) birthday party. On the __ of __, 20__, you'll meet at (child's name) ship for a pirate adventure.

But beware of Captain Jack. He's still looking for his lost gold. You'll be on a hunt to find it!
Pirate Hats: Using a piece of newspaper, fold it into a Pirate Hat. See here for directions on folding. Let the children decorate their hats with feathers and gold colored crafty supplies.
Food:
Pirate Pita Pockets – filled with red blood sauce and golden cheese
Pirate Punch – red fruit punch with a black pirate drinking straw flag. Using a black paper rectangle, cut 2 holes into the paper and slip it on the straw. You can decorate your drink flags with a skull sticker or use a white crayon.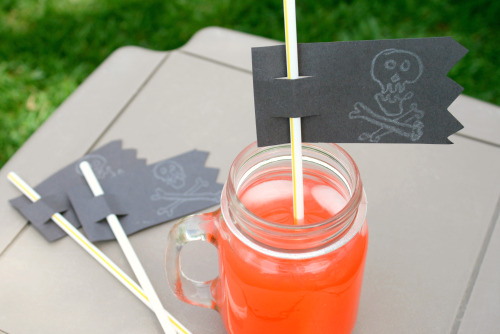 Cake: This was my sad attempt to make a pirate cake a few years back, the green writing gel didn't work so well. I'm sure there are other more fabulous cakes, but this did the trick for us. I decorated it with half water and half land. The ship's mast and the treasure box came from a pirate toy set we have. And the treasure is chocolate gold coins and the canon balls are chocolate malt ball candies.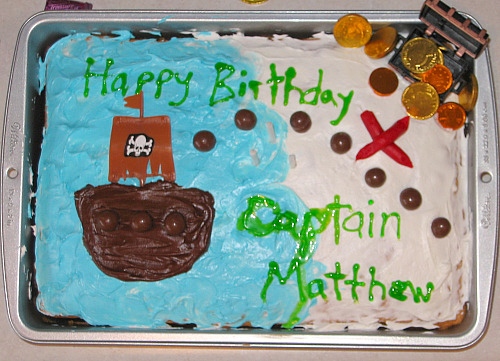 Games:
Walk the Plank – We cut a large piece of cardboard into a long plank, about 1 foot by 5 feet. I set it on top of 2 blue mats and had the children walk along the cardboard. They jumped from the edge of the "plank" onto the "water". This was a great activity for 3 year olds, they really were nervous about jumping off!! That'll teach those lazy ship mates to mess with the captain!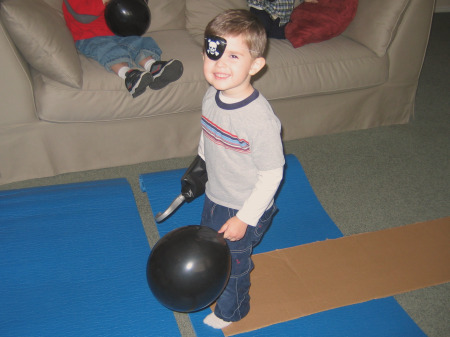 Find the Lost Treasure – Take the little pirates on a treasure hunt to find the gold. I wrapped some golden Rolo candies into some fabric and tied it with a ribbon. I gave them a few clues to it's whereabouts, and then the little pirates were off searching for the lost treasure.
Toss the Treasure – Toss toy coins into a large treasure box. I spray painted a white styrofoam ice chest with brown paint to resemble a treasure box. Or you could simply use a cardboard box with the top open. Have the children toss plastic coins into the chest from a 3-4 foot distance away. See how many coins they can toss in without missing.
Pin the X on the Treasure Map – Draw a map onto a large piece of white poster board. Here I am explaining this treasure map to the kids. They each took a red paper X's and tried to pin in on the treasure!
Pirate Booty Party Bags: Each child will get to go home with their pirate hat, as well as some pirate goodies. I found a pirate costume kit at the dollar store that I picked up for each child. It came with an eye patch, plastic sword, a hook, and a telescope.
What swashbuckling party ideas have you celebrated a pirate birthday with?