Do you need quick and easy meal ideas? You are going to love the ramen bowl recipe we are sharing today. It's not only a healthy meal, but it's the perfect way to use up leftovers. This will be your go-to comfort food recipe in no time.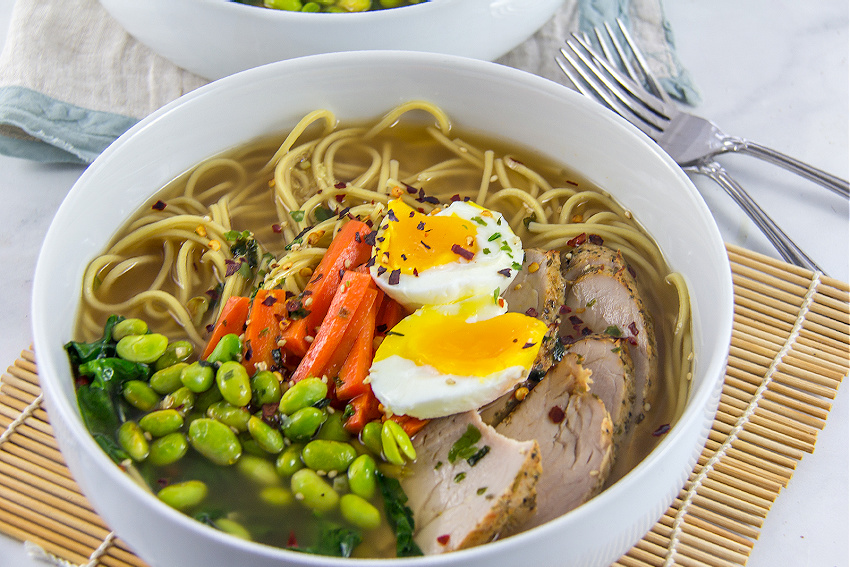 My oldest son used to work late at night as a valet for a hotel. If there wasn't a full plate of leftovers when he came home at 1am he would boil an egg and use leftover meat from dinner to make himself a gourmet ramen bowl. That was always one of my favorite snacks many, many years ago when I lived in Australia. I would heat up 2-minute noodles (instant ramen) and throw in ham or chicken with frozen peas, corn, and carrot. It was the perfect quick and easy hot meal when I got home after a long day. Plus, you couldn't beat the cost.
This version may not be quick so quick and easy, but it's the perfect way to use up leftover meat and vegetables, and it's delicious too.
Which ramen noodles should you use?
You can actually use either instant or straight ramen noodles for this recipe. I used straight ones. Keep in mind that if you use instant noodles they will cook quicker and you will need to add them at the last minute so they don't become mushy. You will also need to throw away the seasoning packet because you won't need it for this recipe.
What can you add to a ramen noodle bowl?
Everything but the kitchen sink. Noodle bowls are the perfect way to use up leftovers, whether it's bags of frozen or fresh produce, meats, tofu, and seasonings.
Here are a few ideas for you though:
Meat – seafood, turkey, pork, beef, chicken
Tofu
Produce – spinach, bok choy, carrot, edamame, kale, leek, mushrooms, bean sprouts
Egg
Toppings – flaked red pepper, dried seaweed, sesame seeds. herbs, green onion
For this one, I added spinach, edamame, carrot, rice seasoning, and red pepper flakes, along with pork.
Making ramen broth
Ramen broth is cooked in about 25-minutes, and everything else can be prepared while it's simmering on the stove.
Tofu – use vegetable broth
Chicken or pork – use vegetable or chicken broth
Beef – use vegetable or beef broth
Print our recipe card below to make our delicious pork ramen bowl, and then experiment by adding different vegetables, meats, and toppings later on.
Please Pin Post For Later:

Homemade Pork Ramen
Easy homemade pork ramen recipe.
Keyword:
bowl food, noodles, ramen
Ingredients
8

cups

chicken broth

low sodium

1/4

cup

soy sauce

2

tbs

mirin

1

tbs

fresh ginger

grated

1 1/2

tbs

fresh garlic

roughly chopped, divided

4

green onions

white and green parts separated

2

cups

baby spinach

2

carrots

cut into matchsticks

1

cup

edamame

shelled

4

eggs

1

tbs

sesame oil

9.5

oz

ramen noodles

pork tenderloin

sliced

red pepper flakes

(optional)

rice seasoning

(optional)
Instructions
Add the chicken broth, ginger, mirin, soy sauce, green parts of the onion, and 1 tablespoon of garlic to a large stock pot.

Bring to the boil, and then turn down to simmer for 25-minutes.

In a large pan, add the sesame oil and remaining garlic, and cook over medium heat.

Medium bowl the eggs - I use an egg cooker for this. Once cooked, put them immediately into cold water to stop them from cooking further. Shell them, and cut them in half.

Add the carrot sticks, edamame, and spinach in separate sections of the pan. Toss in the sesame oil and continue stirring occasionally until the spinach is wilted.

Cook the noodles according to the package directions, HOWEVER, remove them from the boiling water 1-minute less than the recommended time. They will continue cooking a little once the broth is added to them.

Strain the broth and then pour it over the noodles in serving bowls. Add pork, carrots, edamame, and spinach. Top with seasonings, and then add the egg on top. Serve immediately.