My little guy is two-and-a-half and really getting interested in pretend play. It's one of my favorite stages! He loves to play grocery store, airplane trip, and rock the baby. He sees me taking lots of photos, so, of course, he likes to pretend to take pictures, too. I'm adding this cute cardboard camera to his pretend play prop box, and I think he's going to have lots of fun playing photographer with it!
This little camera is so easy to make – an animal crackers box is the perfect size and shape for the camera. Add a cardboard tube lens, some paint, and a strap, and you are ready to say "cheeeeese!"
Pretend Play Cardboard Camera
Supplies:
empty Animal Crackers box (or another small box)
cardboard tube
black acrylic craft paint
foam brush
hot glue gun
length of ribbon or fabric for neck strap
metallic pen for details
small wood button or plastic lid for camera button
Carefully take apart the animal crackers box. Center the cardboard tube lens on the front of the box and trace around it.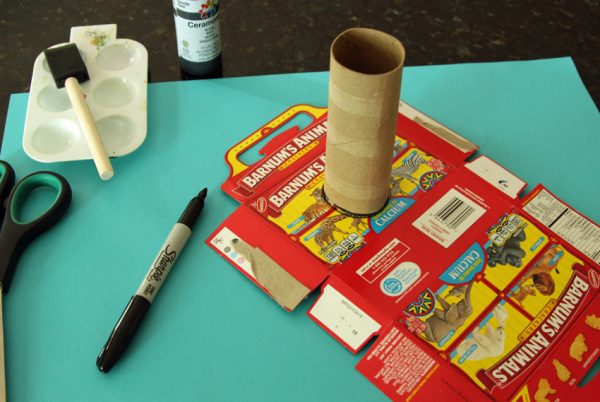 Use a craft knife or scissors to cut out the circle. You want the cardboard tube to fit tightly, so cut inside your tracing line and adjust as necessary.
Make sure the tube fits, and mark the length you want the lens to be. For stability, I like the tube to slide all the way to the back of the box. I cut my cardboard tube about 3.5 inches. Remove the tube for painting.
Paint the box (plain cardboard side) and tube with black paint. I painted the inside of the tube, as well. Set aside to dry.
Using hot glue, reassemble the sides of the box, with the painted black side on the outside. You can use regular glue, but you will need to use clothespins or binder clips to hold everything in place while drying.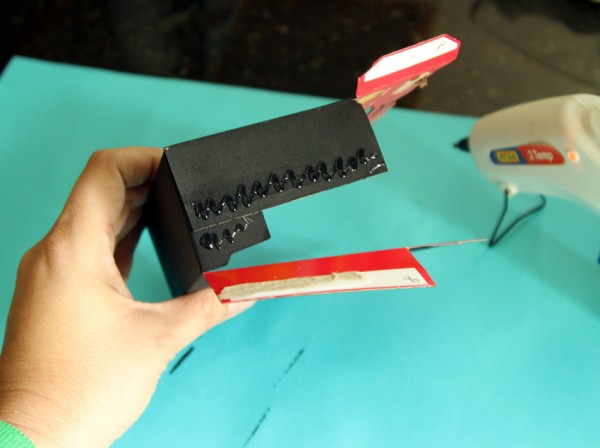 Before gluing the top of the box closed, attach the strap. Use hot glue to attach each end inside the box. I used a strip of fabric, cut with pinking shears to reduce fraying. Make sure your strap is long enough to fit over your little one's head comfortably.
Slide the cardboard tube lens into the camera. If you are worried about the lens being pulled out, you can use a little glue to secure the tube to the back of the box.
Close the box and glue down the top. Cut off the handle piece, or just glue it down.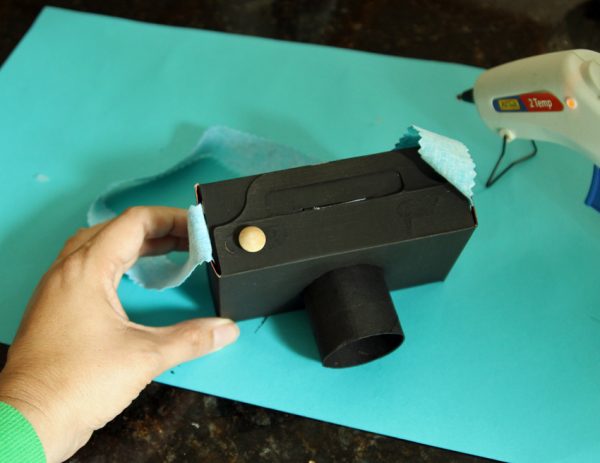 For the finishing touch, add a few details to the camera. I used a silver metallic pen to draw a flash, and glued a small wood button on top. Your child might enjoy helping with the details. Foam stickers, gel pens, wood shapes, and buttons all make great embellishments.
Time to play! Maybe you will open a stuffed animal portrait studio or scout for backyard wildlife as a nature photographer. Happy pretending!