Today we are going to talk about sewing borders onto a quilt.  It's important to have borders that help keep your quilt square – otherwise your pieced top will be more difficult to 'quilt' and it will not lie flat – instead it will have little ripples in the edges of the quilt.
For this project you will need four strips of fabric measuring 3 ½" x 42″ (or the width of the fabric as it comes.)
It's a good idea to measure the length of the quilt sides before you sew, rather than just starting at one end, sewing on a strip, and cutting-off the excess after. This will help to keep the quilt 'square.'
This is the easiest and fastest way I've found for measuring your border lengths. Before you measure your borders, carefully trim off the selvage edges of the borders themselves. Then lay 2 of the border strips across the middle of your quilt, lining-up one end of the strips with the edge of the quilt. The other strip edges will hang over the side. Place a pin in the border strips where the quilt ends. And then carefully trim with your ruler and rotary cutter where that pin marks.
Then fold the border strip in half, end to end, to find the center. Pin the center of your strip to the center of your pieced quilt top and pin the ends of the strip to the ends of the quilt. Then space pins along the strip to secure the strip in place. (It is not bad if your strip is slightly smaller than the pieced part of the quilt, but this is why starting at the center and the ends when pinning is important.)
Pin opposite side of quilt and sew both borders on to the edges of the pieced portion. Press the borders open and flat working from the front side of the quilt.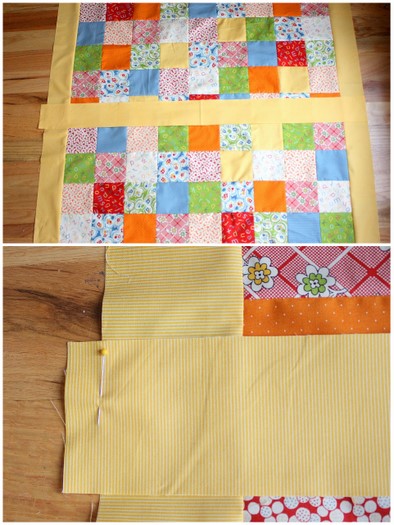 Repeat the process on the other edges.  Lay the 2 remaining border strips across the center portion of the quilt. Place a pin to mark where to trim, cut off remnant, pin and sew. Press. That's it!
Now, this project worked out nicely size-wise – we didn't need longer strips. If you are working on a larger quilt, cut your border strips the same way (just cut more of them) and sew the strips together end to end to create a longer strip of fabric. The process for measuring is the same. Measure, trim, pin, sew, press. Same goes for adding multiple borders to one quilt.
Up next Tuesday in our Quilt Along Series: batting and backing
Amy Smart likes her family, fall, and fish tacos. She blogs about making quilting cool at Diary of a Quilter.