We are now ready to combine the three layers of our quilt sandwich and 'quilt' our project. There are a variety of methods for quilting. I'm going to focus on machine quilting, but we'll discuss others as well.
Basting:
Basting is a very important step in the quilting process. It seems tedious, but doing it carefully will result in a professional-looking finished project. Basting is a way to temporarily hold the three layers together while you 'quilt'.
First of all, it is very important that all three layers are smooth and wrinkle free. Iron the backing fabric and lay on the floor face down. Carefully pull the fabric taught (but don't stretch it) and tape it to a hard, flat surface.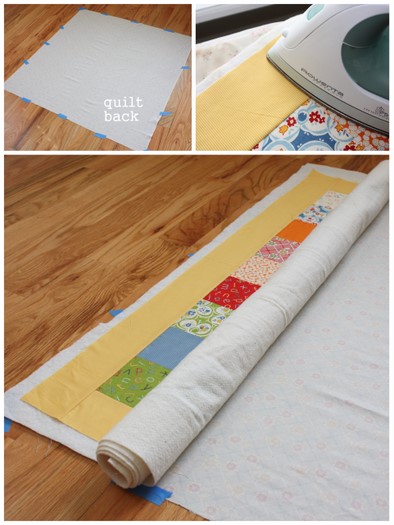 Smooth the batting and lay your quilt top over the batting.  I like to press both layers together to get all wrinkles out. Doing so also helps the quilt top adhere slightly to the batting. When top and batting are smooth and flat, carefully roll the two together.
Bring the top/batt to the quilt back and carefully unroll on top of the backing, smoothing all wrinkles as you unroll.  Make sure you can see backing fabric around all four edges of the quilt top.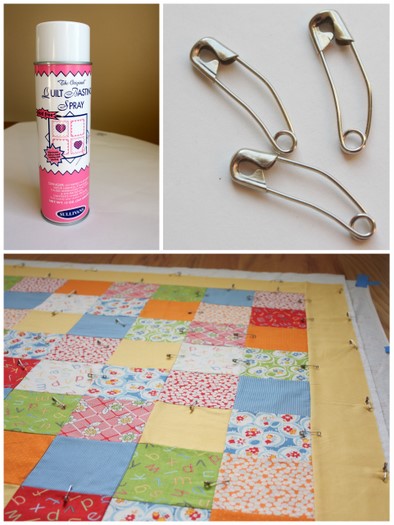 Now is the time to baste all layers together. There are two options that work best for machine quilting: spray baste and/or safety pins.
Basting spray is available in the notions of most sewing supply stores. (Make sure you get one that washes out.)
Basting pins are slightly curved (as opposed to regular safety pins) to make it easier to pin from the top through all three layers.
Pin quilt top starting at the center. Working out pin every few inches, especially at the edges of the quilt top.  When pins are in place, remove the tape and check the quilt back to make sure things are tight and flat. If there are puckers or excess fabric, now is the time to fix the problems. If the fabric is loose when you start quilting, there will be tucks or puckers in the quilting. There is no way to adjust the back once you start sewing without a lot of headaches or time with the seam ripper. (However, using a busy, patterned fabric for the back will help to hide any small mistakes.)
Machine Quilting:
There are many options for machine quilting.  The first is to let the seams/fabrics themselves be your guide. Sewing next to the seams themselves is called 'quilting in the ditch.'  (Top left) Works great.  If you want to create more visual interest in the quilt you can stitch lines or patterns in other directions.
There are lots of supplies for pre-marking your quilt before you start quilting.  Pens with disappearing ink, chalk pencils etc. work well.  I really like to use a hera which gently scores the fabric. (All available in the quilting notions aisle at most stores.)  You can use a ruler for marking straight lines or there are quilting stencils available in all kinds of patterns.  Or be creative. Here's a great example of using painters tape as a guide for quilting. For my quilt I chose diagonal lines. I used my hera and a ruler to mark my lines.
It's a good idea to start quilting from the center and work your way out.  Because it's hard for all that bulk to fit through your machine, roll the sides in. You can un-roll as you work toward the edges.
I use a walking foot when I'm quilting.  It's not necessary, but it helps feed the layers of fabric evenly through the machine.
Another machine quilting option is free-motion quilting. This process is kind of like drawing with your needle and thread. One kind of free-motion quilting is called 'stippling' and looks like a continuous squiggly design over the whole quilt.  For this kind of quilting you use a darning foot and drop the feed dogs on your machine – this means the only thing moving your quilt is you! Free-motion quilting  takes a little more practice because there is usually no pattern marked on the quilt and  it can be tricky to maneuver a quilt through a machine. But the results are fantastic once you've mastered the technique. There are some great tutorials here and here.
Hand quilting vs. Machine quilting: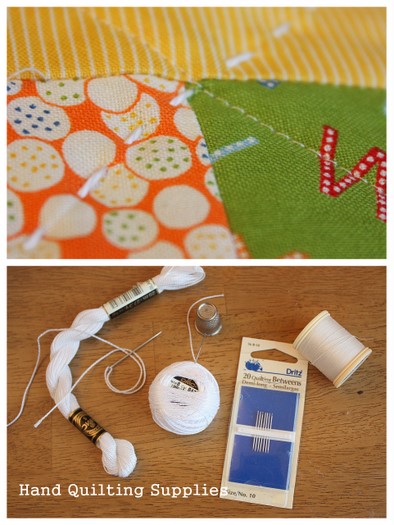 Hand quilting is another option – and again, there are lots of variations.  If you choose to hand quilt, it is still important to baste the quilt.  You can use safety pins or baste in the traditional sense with very large stitches.  Traditional hand quilting requires a thimble, small quilting needles called 'Betweens' and a heavier thread specifically for quilting. There is a great hand quilting tutorial here.
I also really like to use the DMC pearl cotton for a bigger stitch look. It's thicker thread, so you will need a bigger needle. The size 8 thread (center) works well for a running stitch and the size 5 thread (left) is great tying a quilt.
Quilting  is not only functional – holding the three layers together – but it also creates texture and visual interest. The more quilting – or stitching – there is holding those layers together, the longer the quilt will last; fabrics last longer, batting shifts less, etc.  But there's no right or wrong option. As with everything in this process so far, choose what works best for you!
Up next Tuesday in our Quilt Along Series: Binding – or finishing – a quilt!
Amy Smart likes her family, fall, and fish tacos. She blogs about making quilting cool at Diary of a Quilter.