Chugga, chugga, choo choo! Get on the recycled craft train for today's earth-friendly project. We have paper tubes and washi tape to create our cooky crafty choo choo trains. All Aboard!
How about an Earth Day Blog Hop to boot? We all love recycled crafts don't we? Well, I'm getting crafty with 5 other fantastic blogs to bring you an Earth Day Kids Craft Blog Hop.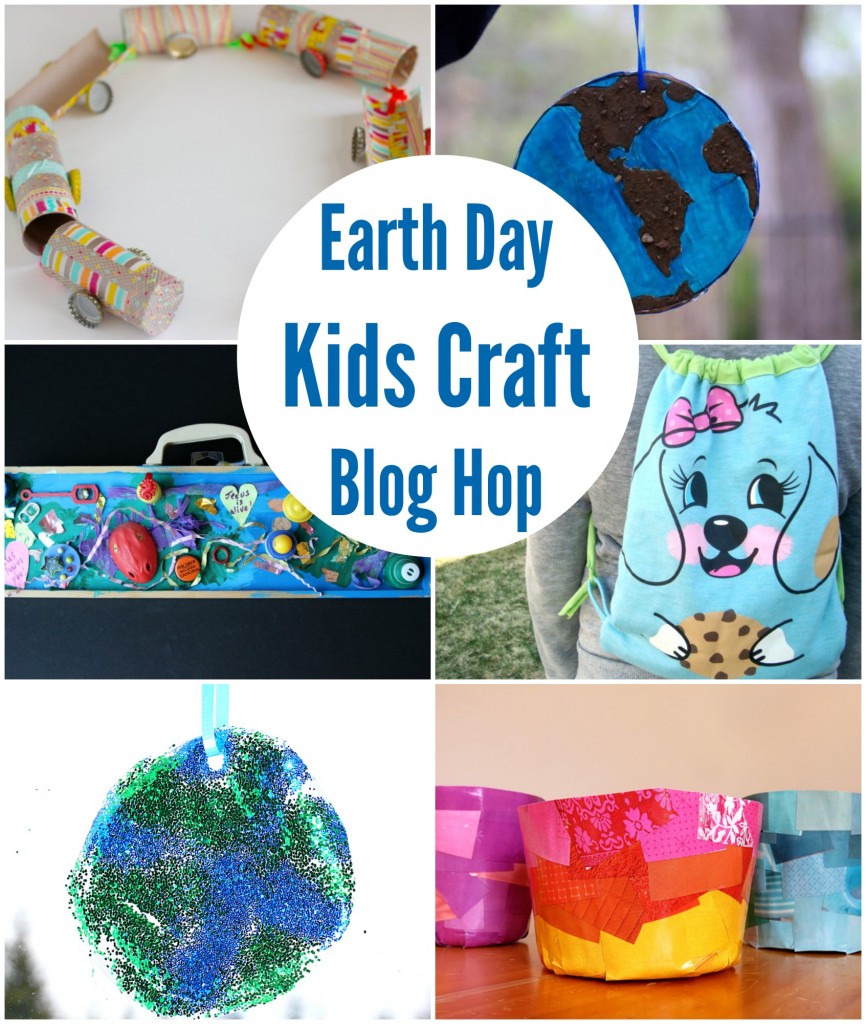 Head over to each blog to see their Earth Day recycled craft tutorials!
We had so much fun making our paper tube trains. We are obsessed with washi tape, my kids love it. They use it on everything they can get their hands on… paper, toys, art projects, bed frames, recycled materials… it's craft tape madness!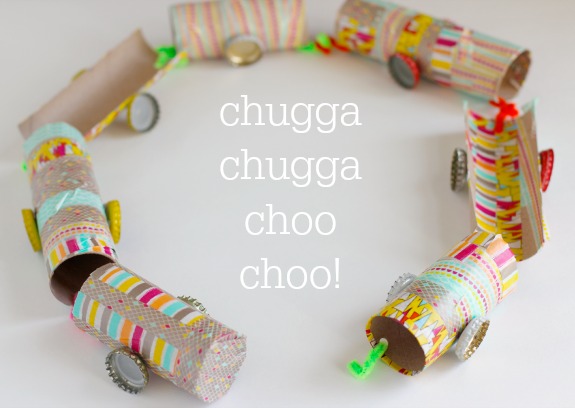 Recycled Paper Tube Train
Supplies 
paper rolls
scissors
washi tape – or any other decorating material: paint, stickers, crayons
hole punch
pipe cleaners
glue – tacky glue or sticky glue dots work well
bottle caps
1. Cut your paper tubes into sections. These will be the train cars, so any size works. We even cut some in half length-wise for different kinds of cargo!
2. Decorate your train cars. We added washi tape every which way for fun designs. For an optional front of the train, we added extra tape around one front end to close it in.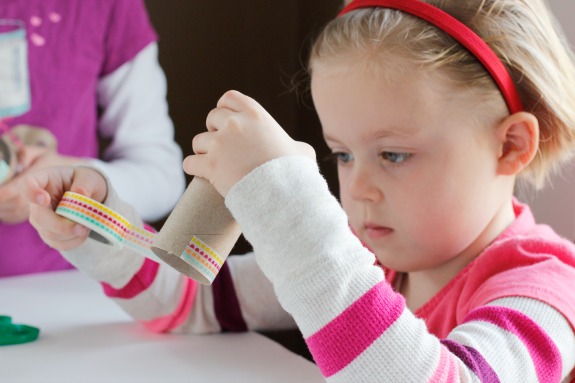 3. Punch a hole about 1/2 inch from the edge on either side at the bottom of each tube.
4. Cut your pipe cleaners to 3-4 inches. Thread them through the punched holes in half, twist them up, and give them a hook shape at the top.
5. The hook shape for each pipe cleaner is how you'll attach each paper tube train car together.
6. Add glue to your bottle caps and place them on either side of your train cars. NOTE: the bottle caps don't turn, so glue them a little higher than the bottom of the tube. We decided to do 2 bottle caps per train car, but you could add more. We used glue dots for ours to play with it immediately, but if you have time, use the tacky glue and wait for it to dry completely over night before play time.
Now it's ready for the tracks. Time to head out on your Recycled Paper Tube Train! Choo Choo!
Make sure you visit each of the fabulous kid crafty blogs for more ideas on Earth Day recycled crafts!