With summer upon us, it's time for family road trips! Whether you're visiting family or friends, maybe Mickey and Goofy or just headed to the beach, I've got a fantastic Road Trip Scavenger Hunt Printable for the kids!
Road Trip Scavenger Hunt
Once again I asked the amazing illustrator Juliann Law to whip up this fabulous Road Trip Scavenger Hunt printable for kids to mark off as we travel. The kids will be on the hunt for all kinds of items on our travels, checking them off as we go. From cars and trucks to horses and cows.
Supplies for Road Trip Scavenger Hunt:
road trip printable in color or black and white
contact paper or plastic sheet protector
dry erase marker or sticky note
crayons – optional for the black and white version
Download and print out this road trip scavenger hunt printable. You can make one for the whole family or each child can have their own. We have a color or black and white version. If you pick the black and white version to print out, the kids could do the coloring as you're traveling in the car!
Here are a few tips when printing out your scavenger hunt:
print out a new scavenger hunt printable for each different road trip you go on, seeing what fun items were found
print out and laminate this page or use a plastic sheet protector
use a wipe off marker or you can cover the pictures with sticky notes or tape to mark them off
turn your paper over and write down all the other exciting things you spotted
turn your paper over and draw or color something new you found.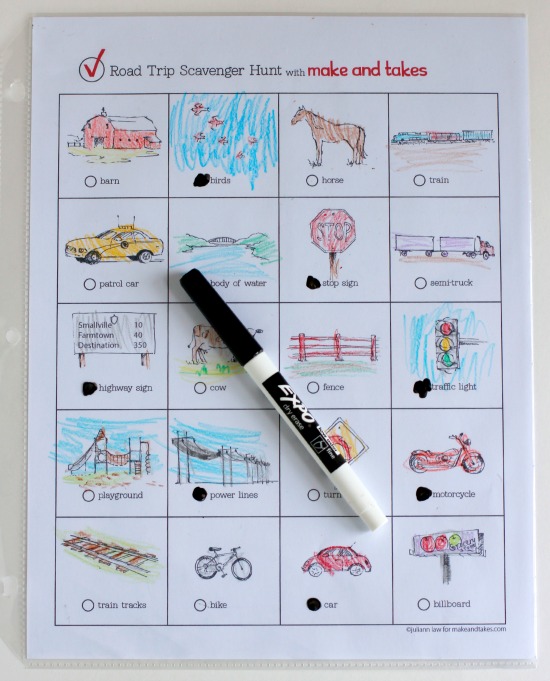 More Family Road Trip Ideas: