These cute little cards are perfect for the holidays. You can gift these to friends or create 8 little reindeer to display on your mantle for a fun decoration. And it's a great activity for kids, they'll love to stamp their thumbs!
Supplies for Reindeer Thumbprint Cards:
cardstock paper
brown stamping ink
brown pipe cleaner
scissors
red pom pom
googly eyes
glue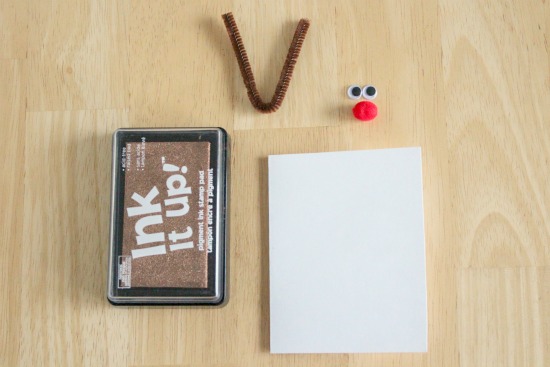 1. Create a small folded card from your cardstock. My card measures 3×4 when folded.
2. Press a thumb into the brown ink and stamp the thumb onto the center of the folded card.
3. With a pair of scissors, pierce 2 holes into the paper, on the top sides of the thumbprint, where the antlers will go. NOTE: this part is for an adult. Please be careful, it's sharp!
4. Cut your pipe cleaner into a 3-4 inch piece. Thread it through one hole and back out through the second hole. Bend the pipe cleaner to give it a bended antler look. And you can add a drop of glue to the back of the antlers to hold them in place if they start to fall forward when the card is upright.
5. Glue on 2 googly eyes and a red pom pom nose.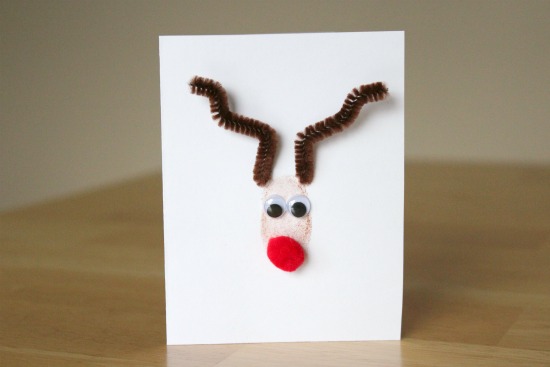 6. You can add a fun saying at the bottom of your card. I added the words, Ho Ho Ho, and used small green pom poms for the "o" letter!
Now Rudolph the Red Nose Reindeer is ready to light up the night!