Rainsticks are one of my favorite musical toys. My sister has a really large wooden rainstick they got in Mexico. It's super big and the sound of rain seems to go on forever. I have wanted to make one for a long time, and with the rainstorms we've been having, now is a great time.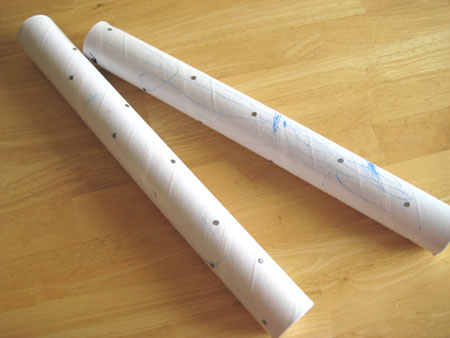 Rainstick supplies:
Hammer and 1&1/2 inch nails – for an adult to use
cardboard tube – mine measures 2×18 & 2×30, I got them at the UPS store
corn kernels, rice, dry beans
Decorations: paint, crayons, stickers, paper & glue
There are many ways to make a rainstick, as I list a few other ways below. I wanted my rainsticks to be a little more sturdy, so I went to my local UPS store and purchased a cardboard mailing tube for $3. It's very sturdy and comes complete with top and bottom covers.
I hammered 30 nails into the long tube. They are spaced about an inch apart and scattered so the nails don't run into each other. While I hammered nails into each tube, my kids were coloring them with fun lines and shapes. If you don't want your nails to show or possibly scratch a surface, place stickers over them.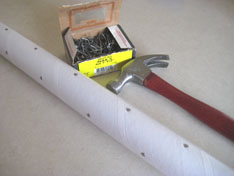 Then we poured in a mix of corn, rice, and beans. We put on the cap and gave it a test. Our sound wasn't quite right, so we opened the cap and put in more of the mix. The cap is on pretty tight and hasn't opened up yet. But if you want to make it more permanent you can glue it on. We are now enjoying the sound of rain inside the house as well as outside these days.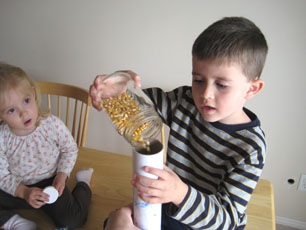 Here are a few other rumblin' rainsticks: