It's only day 5 of school and I'm already running out of ideas for my kids lunches. I know, seems silly, but I want to try to give them something other than PB&J everyday. So I've been doing a little research on what to make and I've found a lot of great ideas. Here are just a few:
Also, just to be on the safe side, check out this video and article that has come out concerning kids sack lunches. Make sure to keep a cold pack in their lunch and stay away from sandwiches with mayo, as it can easily spoil sitting in the classroom for a few hours before lunch. (Thanks to my mother-in-law for the link:)
For something fun to add to my kids lunches, I've partnered up with Lindi of Love the Day again to create these fabulous lunchbox notes. Download and print out these Lunchbox Notes for free and write up something fun for your kids. (If they are too young to read, you could read it to them before school or have them ask their teacher to tell them what it says).
For my son, I'm using the "Remember when…" note, talking about a silly dream he had when he was 3 years old. He loves to hear this story: I was changing my 1 year old's diaper late one night and my son started to sing this song from the movie Madagascar, "I like to move it, move it". He said it 3 times, ending with "I like to MOVE IT" really loud. He was totally asleep! So funny!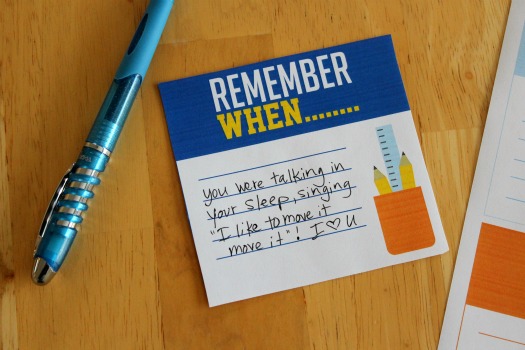 These fun printables are a great way to send a little love to your child, tell them why they make you happy or that you're thinking of them. Have fun with making lunch for school.