Our family has been intentionally scheduling one-on-one parent and child dates for quite a few years. On these monthly dates, we've climbed big rocks, baked fancy cakes, picked new books at the bookstore, held our own video game championships, hiked to waterfalls, and so much more. Our kids love this special time with mom or dad, and we love it just as much!
I was looking for a new twist to add to our usual date cards or coupons, when I came across scratch-off stickers – so perfect! I created a date coupon printable, filled in some fun parent/child dates, and put a scratch-off sticker on each coupon. I'm ready to surprise my favorite kiddos with some fun date cards!
Supplies for Scratch-off Parent & Child Date Coupons
Date coupons – free printable!
2-inch x 1-inch rectangular scratch-off stickers (I purchased mine through Amazon)
Print the date coupon printable on card stock paper and cut apart the four coupons. Fill-in the gray shaded rectangle with a date of your choice.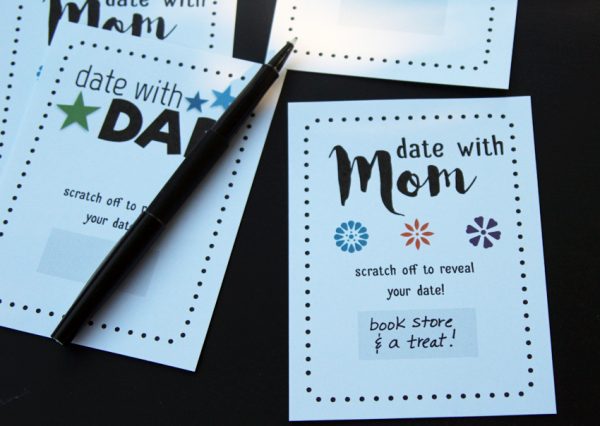 Need some fun parent/child date ideas? Here's a few to get you started!
Parent & Child Date Ideas:
Have a movie night (theater or at home)
Go bowling or miniature golfing
Go on a hike or nature walk
Visit the bookstore
Make a craft together
Go out to breakfast
Bake a fancy cake together
Take a picnic lunch to the park
Have a star-gazing & hot cocoa night
Visit a zoo or museum
Make pizza together
Go for a bike ride
Game night + snacks
Kid's choice!
Cover your handwritten date idea with one of the scratch-off stickers, and your coupon is ready for gifting. How simple is that? Surprise your kids with date coupons taped to the bathroom mirror or waiting for them on their pillows. Or, prepare a big stack and put them in a jar, ready for spur-of-the-moment parent/child dates.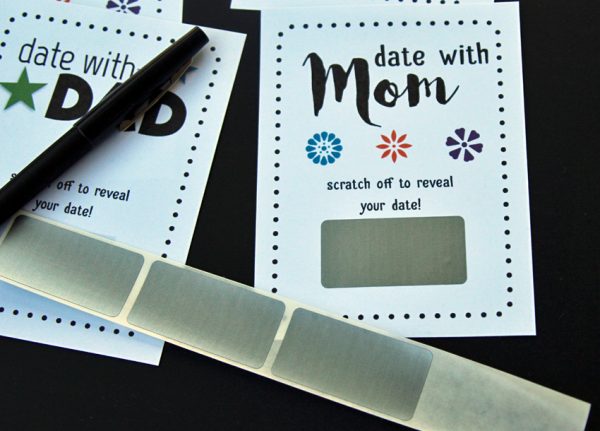 Looking for a special birthday or Christmas gift? Prepare a year's worth of date coupons and write the month on each coupon. Tie the stack of coupons with a ribbon or place in a decorated envelope. Don't forget to include a shiny penny for scratching-off and revealing each date! We have done this for my daughters as a Christmas gift and New Year's surprise, and they absolutely loved it.
The practice of intentional one-on-one time is not just special for my kids, it's definitely a gift for me, as well. Regardless of what activity we do, it's the talking and listening and connecting that I look forward to. Have fun!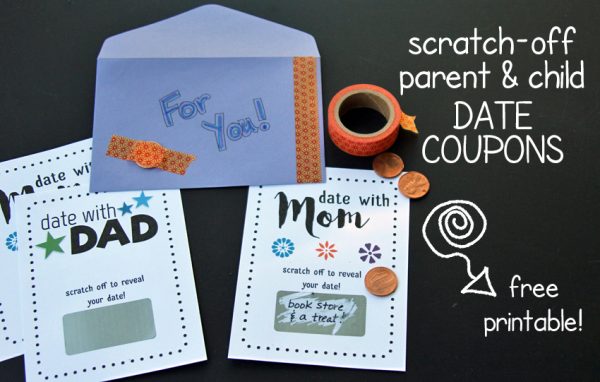 *This post contains affiliate links. Thanks for supporting Make and Takes!