Most kids use pencils at school. But, wouldn't they love using pencils more if they sported colorful and fun pencil toppers? We love making our own pencil toppers & gifting them. Here's one super cute idea that we just loved!!
Sequined Styrofoam Heart Pencil Toppers
Supplies for this project: 
Glitter tapes in different colors. You can also use metallic washi tapes
White or colored Styrofoam hearts
Scissors
Modge Podge
Brush
Embellishments (Lots of sequins)
Pencil
Acrylic colors ( optional)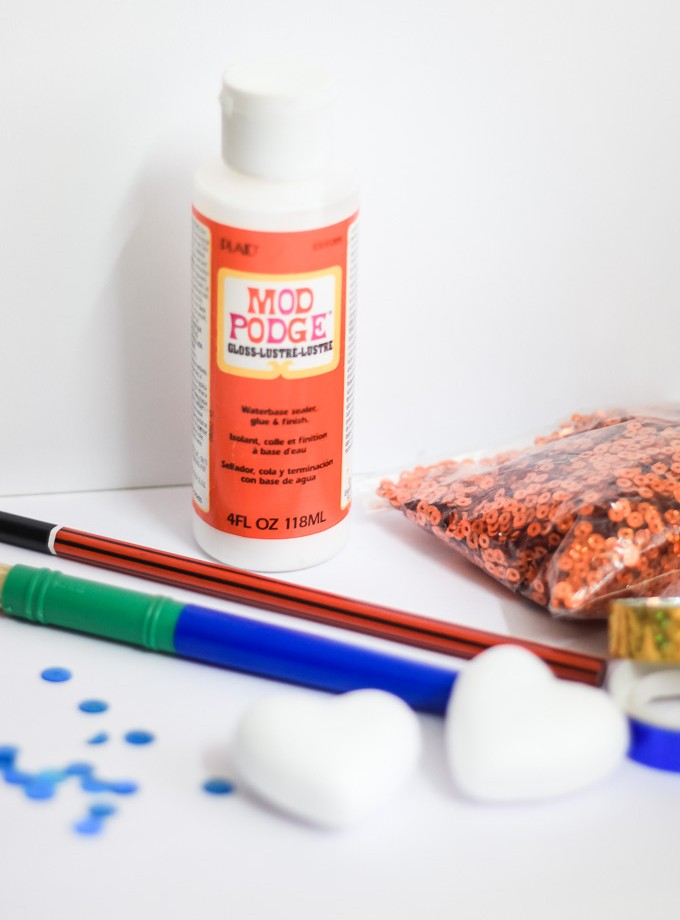 Instructions:
We found these really cute Styrofoam hearts about an inch in size and decided to make toppers with them. Be sure to line up your worktable with a newspaper & keep some tissues handy.
The first step is to make a hole for the pencil to slide in. You could do this later also, but sometimes a sequin can get stuck at the exact point where we want the pencil to hold. We used the pointy sharpened top of the pencil to make a small hole & then used the backside of the pencil to make a hole about 1/4 inch deep.
Cover the pencil with a shiny matching metallic tape. We used Blue sequins & blue tape because my daughter said she was tired of seeing pink & red hearts. But it will look equally stunning in Red, Pink or Gold. We then painted the white heart in blue using acrylic paints. Let dry. This step is optional. The white in the background shows through the sequins and we didn't like that.
Apply a thick layer of Modge Podge evenly covering one side. Now slowly pour the sequins on top so that they get stuck. Wait till it dries and then repeat this step till you have both sides covered. We applied another coat of modge podge to secure the sequins in place. The extra sequins can be collected & reused.
Tip – Use a small paper cup under the heart so that all the extra sequins end up in the cup.
That's it, these little heart toppers are ready. The only tough part was waiting for them to dry. Make them with glitter, sequin chains, or beads. Each heart can be a different color & shape.