Brr! We've been having some super chilly days around here. But, the sun is shining, so we bundle-up and head outside anyway. Thank goodness for warm hats, scarves, and mittens!
When we've had enough cold, we come inside, drink something warm, and settle in with a book, a game, or an art project. Here's one such project for a winter's day – design your own silly and symmetrical paper mittens!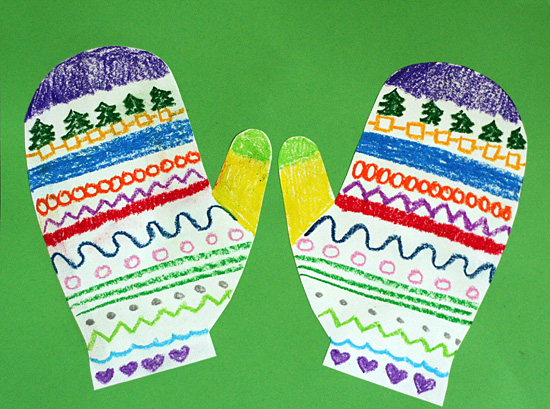 Supplies for Silly Symmetrical Mittens:
white drawing paper
pencil
scissors
coloring supplies (oil pastels, crayons, markers, colored pencils)
glue stick
colored paper
You can use your own hand as a template for your mittens. With your drawing paper folded in half, put your hand down for tracing – thumb apart and the rest of your fingers together. Trace around your hand, making a big arch around your fingers. Move your hand away and draw a cuff to finish your mitten.
Cut both pieces of paper together to create your two mittens. Flip one piece over so the mittens face each other.
Now it's time to design and decorate your mittens. We used oil pastels for vibrant colors, but if you want to do a lot of detail work, fine-tipped markers or colored pencils might be a better choice. To keep your mittens symmetrical, whatever you draw on one mitten, repeat in the same spot on the other mitten.
Continue adding lines, shapes, pictures, splotches, or whatever else you can think of. When your mittens are done, use a glue stick to attach them to a piece of colored paper.
Admire your work and relax with a cup of hot cocoa!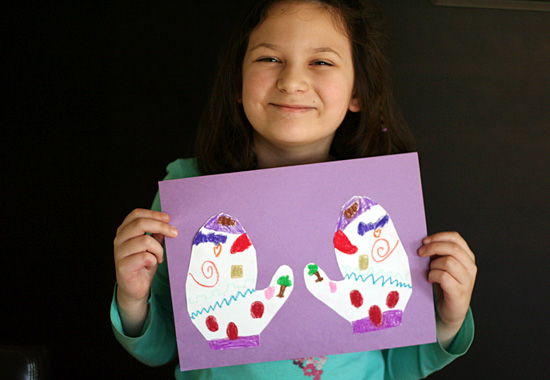 Happy creating!