When my girls were wiggly toddlers and preschoolers, we did a lot of our read-aloud time at the kitchen table. They would nibble on their meals, while I read a big stack of picture books. They would listen to stories much longer while eating, plus they ate better, too. Win-win!
It was always especially fun when there was a food to go along with one of our stories, like silver dollar pancakes while reading If You Give a Pig a Pancake or vegetable soup just like the birthday soup in Little Bear. Here are five fun and simple book and food pairings for your own story snack time!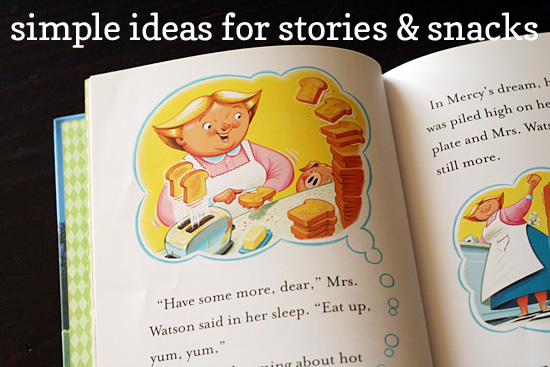 Story: Mercy Watson to the Rescue by Kate DiCamillo
Snack: Hot buttered toast
In Mercy Watson to the Rescue, we are introduced to Mercy, a special pig with a great love for giant stacks of hot buttered toast. This silly and fun early chapter book features full-color illustrations by Chris Van Dusen and is perfectly paired with – you guessed it – a big stack of hot toast with plenty of butter! Read all 6 books in the series for plenty of giggles at the breakfast table.
Story: Edwina: The Dinosaur Who Didn't Know She Was Extinct by Mo Willems
Snack: Chocolate chip cookies
Edwina the dinosaur is very popular in town, always baking chocolate chip cookies to share with everyone. What will happen when Reginald tells her dinosaurs are extinct? Grab a plate of chocolate chip cookies (homemade or not!), and dig in to this sweet story.
Story: Diary of a Wombat by Jackie French
Snack: Carrots
My girls love this story of a roly-poly wombat and his naughty encounters with his human neighbors. Wombat loves carrots, and finds every opportunity to demand and sneak them. Enjoy the wombat's antics with a bowl of crunchy baby carrots, or grab a bunch of carrots from the store with the feathery tops still on.
Story: Giggle, Giggle, Quack by Doreen Cronin
Snack: Pizza
In the silly sequel to Click, Clack, Moo, Duck finds a pencil and the fun begins. The farm animals trick the farmer's brother into all kinds of special treatment, including having hot pizzas delivered to the barn. Make your own English muffin pizzas for lunch or pair this story with a take-out pizza dinner. The hens like their pizza with anchovies – do you?
Story: Chester's Way by Kevin Henkes
Snack: Toast with peanut butter and jam or silly toast faces
The story begins, "Chester had his own way of doing things…" Chester likes to do things the same way, his way, all the time. And so does his best friend, Wilson. Chester always has toast with peanut butter and jam for breakfast. But then, Lilly moves into the neighborhood, and her ways are definitely different. Lilly teaches Chester and Wilson some new things, including making her breakfast toast into a face with pieces of fruit and cereal. Enjoy breakfast while reading this story – Chester's way or Lilly's way!
Happy reading and snacking!