I'm all for quick easy recipes, especially when it comes to cooking dinner. If I can make something with 5 ingredients or less, I'm a happy camper! We're bringing you another favorite family recipe making mealtime happy… Turkey Roll-Ups with only 5 ingredients. Hooray!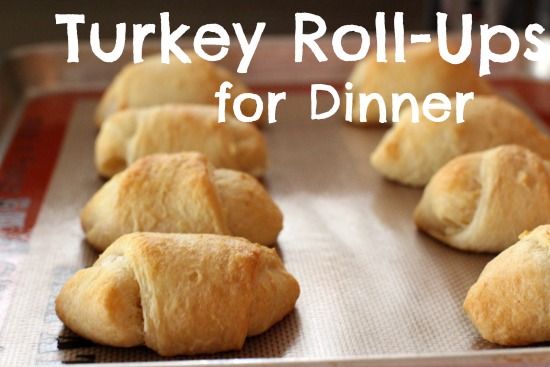 Turkey Roll-ups Recipe
This is a great dinner for the kids to help with too, super simple. They'll love to roll up those crescent rolls and watch them bake in the oven. Yum, ready for an easy family meal!
Ingredients:
1 tablespoon oil
1 lb. ground turkey
1 Italian seasoning packet (2 tablespoons) – or 1 dry italian dressing packet
1 cup cream cheese (8 oz.)
24 crescent rolls from a can – the above ingredients can make up to 24 rolls
Method:
Yield: 4-8 rolls, depending on filling size
1. Add oil to a large skillet pan on medium high heat. Cook and brown the ground turkey in the skillet until cooked through.
2. Add italian seasoning to the turkey while it's hot. Mix until the turkey is coated, then take the skillet off the heat.
3. Place turkey mix to a bowl and add the cream cheese. Mix together until the cream cheese is soft and the turkey mix is covered thoroughly.
4. Roll out crescent rolls into flat triangles. Place a large tablespoon of turkey cheese mix into the center of the open dough. Don't fill it too full or the center will come oozing out all over when it's baked.
5. Fold in the short sides of the dough and roll it up into a large and lumpy crescent shape.
6. Bake at 375* for 13-15 minutes, or until the dough is golden brown.
It's ready to serve. Whip up a quick side salad and dinner is ready for the whole family!
Have fun making this super simple dinner your family will love!