I adore soup weather! And, I love slow cooker soups for an easy and warming dinner. This butternut squash and apple soup has a sweet, delicate flavor, and is simple enough for my daughters to prepare. Even my toddler can help with this recipe – he loves throwing the squash and apple chunks into the slow cooker!
I've kept the seasoning pretty mellow in this soup, which pleases all the kid-palates in my house.
Ingredients for Slow Cooker Butternut Squash and Apple Soup:
(Makes approximately 12 cups)
2 12-oz packages of cubed butternut squash (or 1 medium/large butternut squash, peeled and cubed)
2 apples, peeled and diced
1 medium yellow onion, diced
2 cloves garlic, minced
4 cups vegetable broth
1 cup water
1/2 tsp cinnamon
1/4 tsp nutmeg
salt & pepper to taste
I love the simplicity of this soup – a few simple ingredients hang-out in the slow cooker, then just a quick blend before serving.
Start by prepping your squash, apple, and onion. You can peel and dice a butternut squash, or be lazy like me, and use a couple packages of cubed squash. Combine all the ingredients in a slow cooker (except salt and pepper) and cook on low for 6 hours.
After simmering away for 6 hours, the veggies should be tender and your house should smell yummy, too!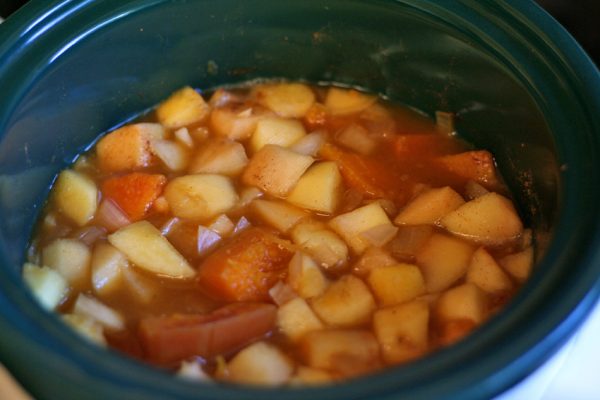 Puree the soup with an immersion blender, or in small batches in a blender. Remember to watch out for the hot steam when you remove the blender lid!
Once the soup is blended and creamy, add salt and pepper to taste. Creamy pureed soups are one of my main vehicles for upping the veggie intake in our house!
Toppings are always fun, and my kids like to add crackers or croutons to their bowls. Sometimes we even cook a little pasta to stir in. A small noodle like ditalini or anelletti is a fun addition.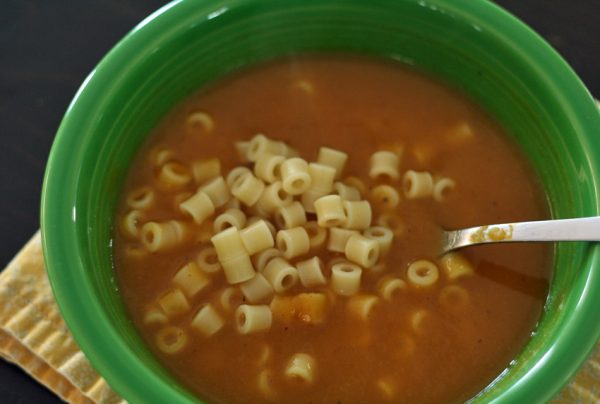 This soup tastes even better the next day, so yay for leftovers! Happy soup weather!
Want more slow cooker ideas? Try this recipe for Mississippi Pot Roast!