My four-year-old and I have been reading lots of books about winter and snow lately. He keeps asking when it will snow at our house, but unfortunately we don't get snow where we live! For now, we'll have to dream of a snow trip while reading our snowy books and making snowy crafts. We had fun creating a colorful neighborhood of snowy winter house art collage. This simple, low-mess art invitation is just right for preschoolers, but big kids might want to join in, too!
Snowy Winter House Art Collage
Start with a sheet of light blue construction paper, a bunch of pre-cut paper shapes (rectangles, squares, and triangles), and a glue stick. I made sure there were big pieces for houses and roofs, plus smaller pieces for doors and windows. Your child might also like to cut some shapes, so have some extra paper on hand.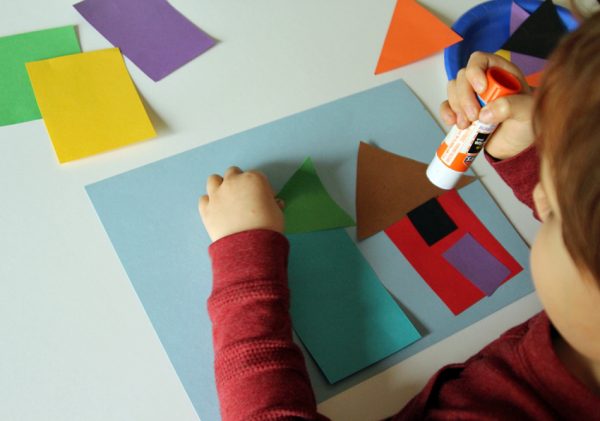 I told my four-year-old that he could make paper houses, and then we would add white paint "snow" all over the houses. He went right to work gluing shapes to make a fun and colorful collage of houses. Once he filled his paper with houses, it was ready for some snowy paint.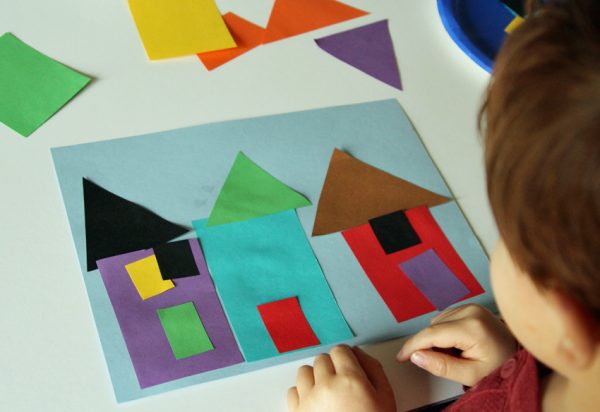 With white tempera paint and a cotton swab, make snowflake dots all over the paper. My kiddo loved bouncing the cotton swab on the paper, as you can see by that busy hand in motion!
Continue dipping in the paint and adding as many snowflakes as you want, then set your paper aside to dry. We might even try mixing a little silver or blue glitter into our paint next time. My little guy was quite proud of his row of colorful houses covered in snowflakes!
If you want to have a cozy afternoon of snowy reading and crafting, pair our snowy winter house art collage project with a few of these picture books – and hot cocoa, of course!
Wintry Picture Books:
A Perfect Day

by Carin Berger

The Snowy Day

by Ezra Jack Keats

All You Need for a Snowman

by Alice Schertle

You Can Do It, Sam

by Amy Hest