This recipe comes from one of my most beloved cookbooks, Land O' Lakes Treasury of County Recipes. I grew up making recipes from this book with my mother. One recipe I never tried until I was an adult was the recipe for Orange Spiced Nuts.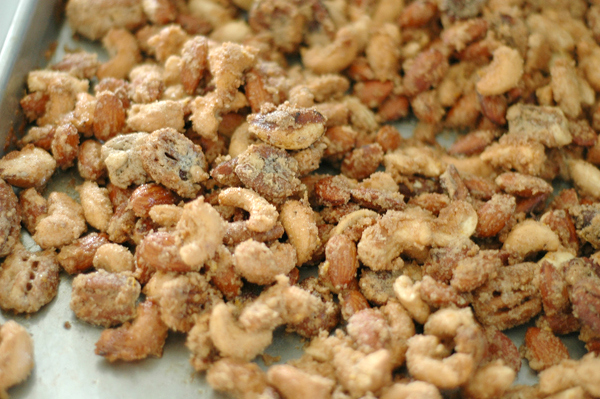 These nuts would be a great gift to give your neighbors or anyone who loves nuts.
The recipe calls for raw nuts that you then toast yourself. Bah! I buy the big jar of dry roasted (and salted) nuts from Costco just to make things a bit easier. You don't have to. I also happen to like the saltiness of the nuts in combination with the sugar and spice.
(granulated sugar mixed with cinnamon and nutmeg)
You can use a combination of spices. The recipe only calls for cinnamon and nutmeg. I have made these nuts with a bit of cardamom or clove added, or with pumpkin pie spice. Whatever you like.
The other KEY (and I mean, KEY) ingredient is orange zest. Well, okay. If you don't like orange, or would rather leave it out, then go ahead. But don't blame me if your nuts are a bit inferior. (They will be! The orange is really magical.)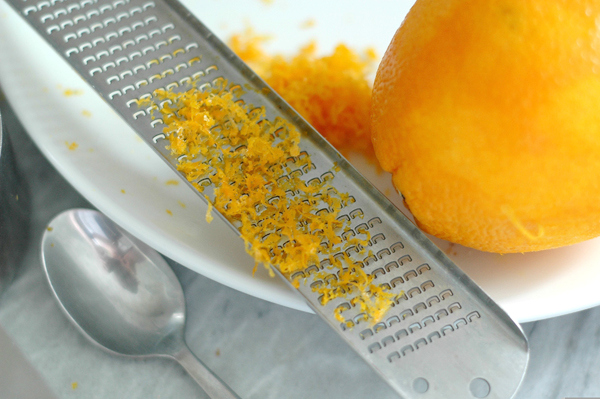 Preheat oven to 325 degrees F.
To get started, beat two egg whites in a stand mixer at high speed for several minutes until soft peaks form. (I guess you could do this with a hand mixer, too, it would just take a bit longer.)
Once the egg whites have formed soft peaks, add the sugar/spice mixture slowly.
Continue beating until stiff peaks form.
By hand, fold in the toasted nuts and the orange zest.
Melt one stick (8 Tbsp.) butter in a rimmed baking sheet. Once the butter has melted, spread the nuts in the pan over the melted butter.
The next most important thing is to keep stirring during the baking time.
See how there is still butter pooling around the nuts in the picture below? You want to stir the nuts as they bake and all the butter will be absorbed. In fact, stir and keep baking until all the butter is gone.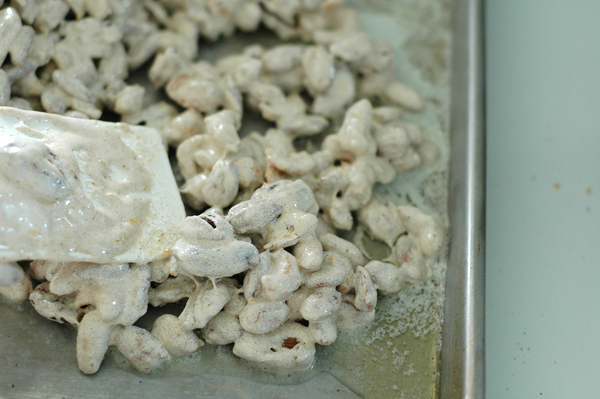 By the end, you will have crispy, salty, butter, sweet, and spicy nuts to rival those street vendors in Manhattan. The smell in your house will be intoxicating. Your husband, wife, significant other, boyfriend, girlfriend, children, neighbors, postman, etc., will fall all over you and shower you with kisses. They may even jump up and down.
And you will have to make this recipe several times to keep up with demand. They will disappear right under your nose–so make sure you hide a secret stash just for you.
Orange Spiced Nuts
Recipe source:  Land O' Lakes
MAKES 6 CUPS
Note: just make sure to have 5 cups of nuts, it doesn't really matter if you have the ones specified in the recipe. You could even do all one kind of nut. The mix I buy has Brazil nuts, hazelnuts, cashews (really good), almonds, and pecans.
Ingredients:
2 cups whole blanched almonds
1 ½ cups pecan halves
1 ½ cups filberts (hazelnuts)
1 cup sugar
¼ tsp. cinnamon
¼ tsp. nutmeg
Pinch salt
2 egg whites
1 Tbsp. grated orange peel
½ cup butter or margarine
Method:
Heat oven to 325 degrees. Spread nuts in jelly roll pan. Bake, stirring occasionally, for 20 to 25 minutes or until lightly toasted.
In small bowl stir together sugar and spices.
Using a stand mixer fitted with a whisk attachment, beat egg whites at high speed, scraping bowl often, until soft peaks form, about 1 to 2 minutes. Continue beating, gradually adding sugar mixture, until stiff peaks form, another 1 to 2 minutes. By hand, fold in orange zest and nuts. In same jelly roll pan, melt butter in oven—about 4 to 6 minutes. Spread nut mixture over butter. Bake, stirring every 5-10 minutes for about 25 to 30 minutes, or until nuts are brown and no butter remains. Cool completely and transfer to an airtight container.