Spring is here and the bugs are out! We've actually seen a few caterpillars in our backyard crawling around. To help celebrate spring, I've gathered 6 super cute caterpillar crafts to make with kids!
6 Spring Caterpillar Kids Crafts
1. Cotton Round Caterpillar Craft: I love the idea of using small circle cotton pads for the shape of a cute little caterpillar. The texture of the cotton rounds makes such a neat design for the caterpillar body. Find the tutorial over at Family Craft via Where Imagination Grows.
2. Beaded Pipe Cleaner Caterpillars: this is a perfect activity for small fingers, as they thread on each pony bead to create their caterpillar. What great fine motor skill practice! Will you make your caterpillar a solid color, striped, or a rainbow of color? The choice is up to you!
3. Plastic Easter Egg Caterpillars: do you have leftover plastic eggs from your Easter egg hunt? Use up all those extra plastic Easter eggs by turning them into a colorful caterpillar. Find the tutorial over at Artzy Creations.
4. Very Hungry Caterpillar Clothespins: stack clothespins all together to color and turn into Eric Carle's Very Hungry Caterpillar! Find the tutorial over at The Bottoms Up Blog.
5. Apples and Cheese Caterpillars: This caterpillar is edible! Make a caterpillar snack made from apples and cheese for a fun and silly treat. Find the idea over at Cute Food for Kids.
6. Live Caterpillars into Butterflies: you can order live caterpillars to get sent to your house, the kids love it. This is a great kit to get for a fun spring project!
Have fun crafting cute little caterpillars this spring!
More Spring Crafts for Kids
Looking for more spring crafts to enjoy together? These 7 Spring Flower Crafts will brighten your day! There's just something special about flowers that'll make you smile!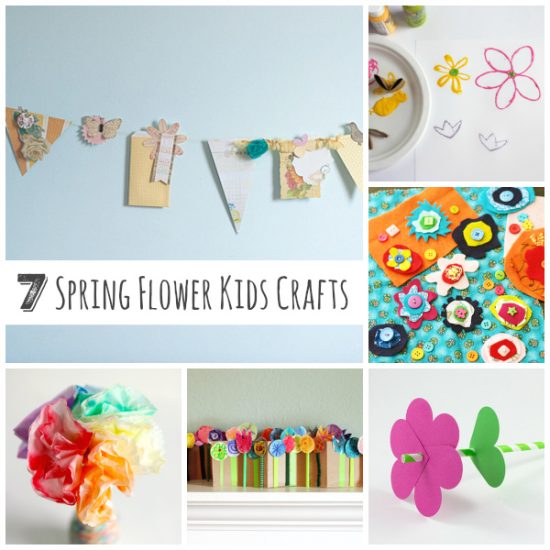 Need something to keep your flowers in? How about making a pretty vase that you can use year after year? Here are 20+ DIY vases for your spring flowers:
How about a little something for your front door? This airbrushed flower mat is the prettiest way to welcome springtime guests to your home!
If you have any Easter eggs leftover from your Easter celebrations, you can use them to make some awesome crafts! Here are 15 Colorful Plastic Easter Egg Crafts you can make:
Finally, with Mother's Day coming up, you won't want to forget about Mom while you're crafting! Here are 25 DIY ideas that you could make for Mother's Day!
SaveSaveSaveSaveSaveSave