My sons love those baby books that have touchy-feely parts in them, even now that they're not babies anymore. Here's a craft for kids that creates a furry shamrock, perfect for St. Patrick's Day. Kids will enjoy making a little decorative picture, a greeting card for Grandma or maybe even the cover of a notebook, with these fun fuzzy shamrocks.
So what's the secret fuzzy ingredient? Velour pads, like the ones you put on the bottom of tile coasters.
Supplies for Fuzzy Shamrock Card:
A package of velour pads (I found mine at the dollar store)
Craft foam or card stock
A marker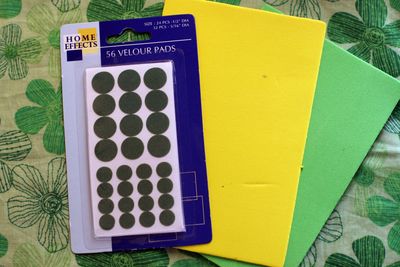 Instructions: Stick four circles together in a group on cardstock or foam, draw a stem, and decorate as desired. Easy!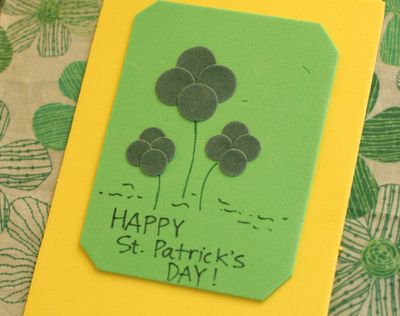 Heather Mann is a regular contributor at Make and Takes. She's is the mother of three boys, ages 3,  2, and baby. She publishes Dollar Store Crafts, a daily blog devoted to hip crafting at dollar store prices, CROQ Zine, a print magazine devoted to hip crafting, and also CraftFail, a community blog that encourages crafters to share their not-so-successful craft attempts.