My son is starting to ask all kinds of questions about the world around us. He recently brought home this spikey looking nut from the school playground, asking what it was and wondering what might be inside. So we started a Science Observation Journal, a place where we could collect and record all kinds of information about our findings. Time to investigate!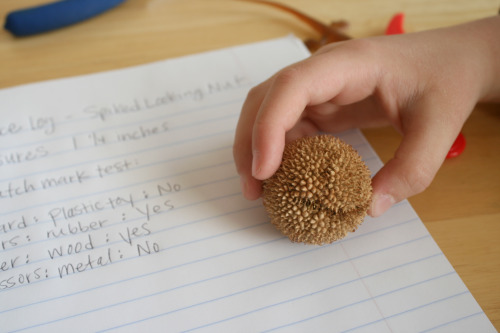 Supplies for Science Observation:
notebook and pencil
tools: pliers, scissors, hammer, fork, water in a cup, ruler
* All tools, unless child-friendly, need to be under adult supervision *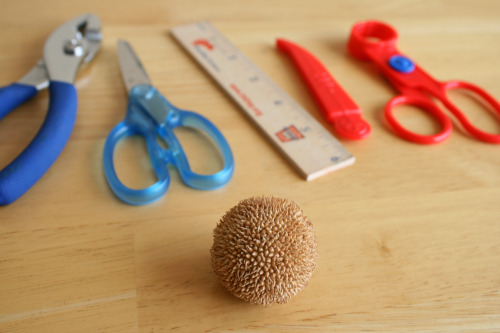 We got out our notebook and I wrote down different questions and observations that we could ask. My son helped dictate to me what he wanted to find out about this "spiked looking nut" (that's what we were calling it). How big/long was it? Did it scratch anything?
We experimented on it with all kinds of different tests as well. We measured it, looked to see if it could float, drew what it looked like, and gave it our own touch test.
We wanted to try and see what was inside. We took a lot of guesses as to what there might be. Then we did our best to use tools to get to the center. We used a fork and a nut cracker.
And finally a hammer (that I was careful to use). Here is what we found inside: Nothing!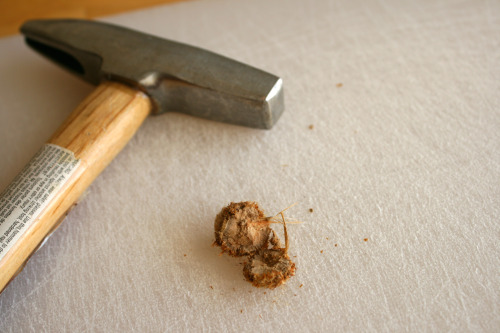 From all of our observations and findings, we concluded that it was simply a seed. We went back to the source and found many of these spikey seeds hanging on a tree nearby his school. We even googled it to see what other information we could find. There wasn't a whole lot out there, but it was still fun to give it a try and see what we could come up with.
We'll be doing a lot more observations, as I think my son has caught the science bug!