My three-year-old son loves working with real tools – things like rakes, salad spinners, magnifying glasses, and mixers. As preschoolers, my girls would measure everything in the house with tape measures and weigh all their stuffed animals on the kitchen scale. So we're working on a STEAM activity to encourage this!
I love to use real tools and common household items to offer open-ended math and science explorations from an early age. This simple thermometer investigation gets kids moving around the house, collecting data, and thinking about how temperature and thermometers work.
Taking Temperatures Around the House
This STEAM activity for temperature-recording is a fun way to explore simple math and science concepts, and it is easily adaptable for little and big kids. Younger kids can experiment with reading a thermometer and coloring in the temperatures, while a parent or older sibling record the words and numbers. Older kids can collect and analyze their temperature data, complete simple calculations, and write about or discuss their results.
Supplies for STEAM Activity:
Take a thermometer to each room in your house. Wait a minute or two for the temperature to adjust before reading the thermometer. Record the room name and temperature on the printable thermometer recording sheet. If your kids don't have much experience with temperatures, show them how to write °F or °C. With a red marker or colored pencil, color in the degrees on the thermometer.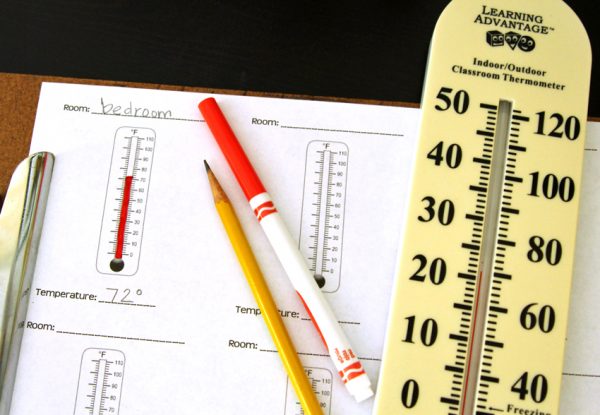 After recording the temperature for each room in your house, talk about your findings:
Were all the rooms about the same temperature, or did you have large differences?
Did you take the temperature in a similar spot in each room (such as near the door or in the center) or not? Would that change your results?
If your kids are old enough, they might enjoy working on the additional pages in the thermometer download. The simple math activities include writing the temperatures from least to greatest, calculating the range in temperature, and finding the average temperature in the house. There are also some open-ended thinking questions to write or talk about.
For even more thermometer fun, try these activities:
Record the temperatures in different parts of your yard (such as sun vs. shade).
Leave the thermometer in one spot in your yard and record the temperature every hour, from morning till bedtime. Display your results on a simple graph.
Make a homemade thermometer with simple household supplies (via Lemon Lime Adventures)
Have fun investigating the temperatures around your house with your junior scientists!