Most times when we're needing a little snack, we're out and about. Either at a soccer game, dance lesson, or running errands, we seems to always be on the go. I like to have a few snacks on hand while we're out to fuel the kiddies. So I've found some really great DIY snack container ideas I'll be making as we're snacking on the go!
I'm partnering with GOOD THiNS today, yummy new snacks on the go for the whole family now available in the cracker aisle at Safeway. These snacks come in so many great flavors – GOOD THiNS Sweet Potato, GOOD THiNS Chickpea Garlic and Herb, GOOD THiNS Original Potato, GOOD THiNS Potato Spinach & Garlic, GOOD THiNS Rice Veggie Blend – so you're going to find something everyone will love. Our fave are the Spinach & Garlic snacks, yum!
GOOD THiNS are baked not fried, have not artificial flavors or colors, and no high fructose corn syrup. So you know you're gettin' somethin' good with these snacks. They have potato base snacks and rice based snacks, (the rice ones are gluten free, yippee!) And each serving is only 130 calories, so they're the perfect snack for me too. In fact, I've got a little bowl of them right next to me at my computer!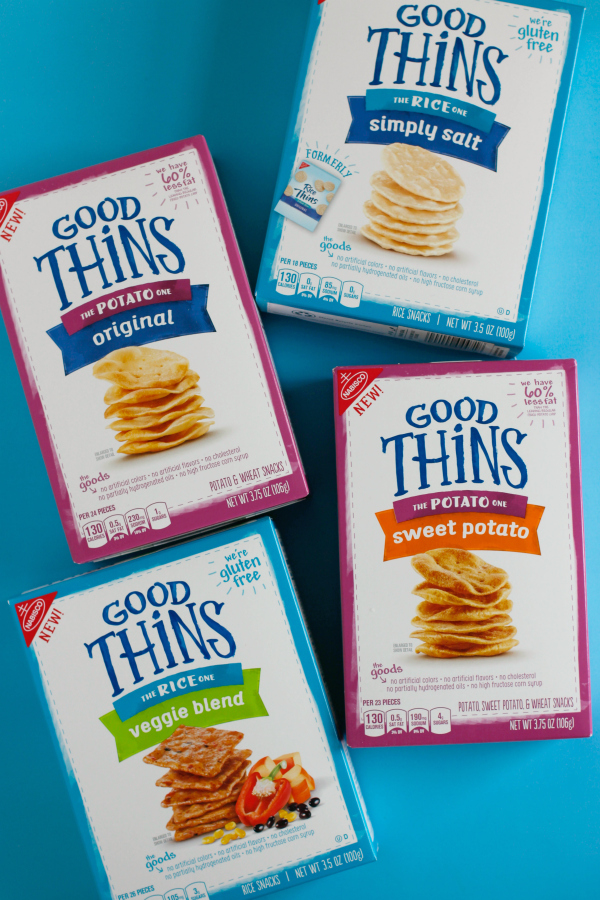 When you're on the go traveling for a weekend road trip, or tonight as you trek the soccer carpool across town, be sure to have a few of these containers at the ready with your new GOOD THiNS snacks, nom-nom!
5 Ways to Store Snacks on the Go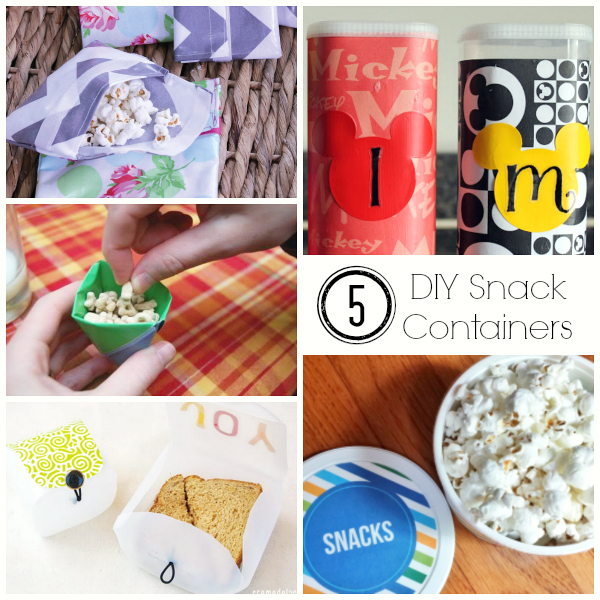 1. Disney Decorated Container: Decorate a reusable container with cute Disney themed paper. Not only is it functional, it's fun to look at! Great for snacks on the go. Find the tutorial over at I Dream of Clean.
2. Craft Paper Snack Cup: I love all you need for this quick snack cup is a piece of paper. Follow these instructions to turn something so simple into functional! Find the tutorial over at Inner Child Fun.
3. Reusable Laminated Fabric Snack Containers: Follow this pattern to make snack containers out of laminated fabric you can use over and and over again. Find the tutorial over at Thrifter in Disguise.
4. Snack Labels for Plastic Containers: Reuse plastic containers to fill with snacks, but be sure to label them as such. Find the snack printable over at Bliss Misc.
5. Milk Jug Snack Containter: Save your milk jug containers to turn them into something new and fun. I love these cool containers for snacks. Find the tutorial over at Creme de la Craft.
Get crafting your snack containers so you can store your snacks while you're out and about with the family!
This is a sponsored conversation written by me on behalf of Albertsons and GOODTHiNS. The opinions and text are all mine.