Summer Camp guest post by Christie of Childhood 101
Puppets are a staple play item in our home. As a teacher and a mama, I love that puppets have the capacity for so much playful learning; promoting language skills, imagination, creativity, social awareness, they are even excellent for building confidence and self esteem. Puppets are also cheap and easy to make in a myriad of ways and making a puppet of your very own makes them extra magical in the eyes of a young child.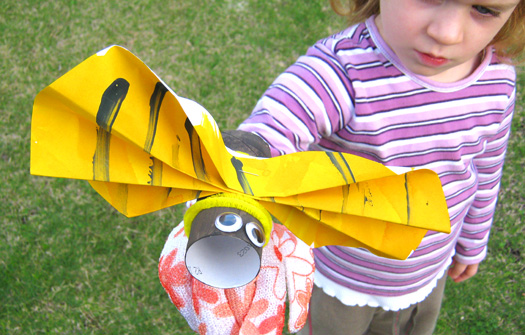 Supplies for Buzzing Bee Hand Puppet:
1 exfoliating shower glove (I picked up a packet of two for $2 at my local discount store)
2 long pipe cleaners
2 googly craft eyes
Strong craft glue or hot glue gun
1 recycled cardboard tube
Black acrylic paint
1 sheet of craft paper
Paint or marker pens
Stapler
1. First off my daughter painted a large sheet of heavy weight craft paper (the type you would find in a sketch book) with yellow food coloring, adding black stripes with black child friendly acrylic paint and using a cotton bud as a paint applicator (you could use any type of paint or marker pen for this step). She also painted the cardboard tube black with the acrylic.
2. Once the paint is dry, trace around a large dinner plate onto the paper and cut out. This paper circle becomes the bee's wings.
3. Concertina fold the circle (I kept the folds quite wide) and secure in the middle with a staple.
4. The material exfoliating gloves are made of has quite an open weave, so to attach your bee to the glove, thread the pipe cleaners through the weave about an inch apart. Then wind the pipe cleaners around the cardboard tube. To secure, twist the two ends of the pipe cleaner together underneath the tube. We didn't need to, but if necessary you could secure the tube further with a little glue.
5. Glue the googly eyes and wings into place.
Once the glue is dry, you are ready to put on a show!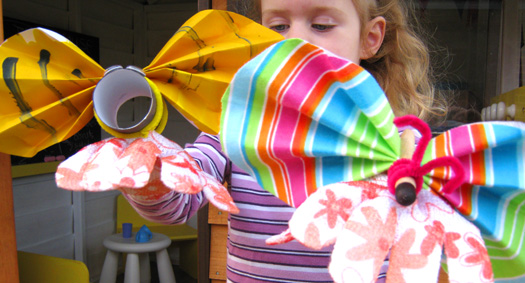 If you would like to make a clothespin butterfly hand puppet to add to the summer playtime fun, check out Christie's blog, Childhood 101 today for another super quick and easy tutorial.

Christie Burnett is the Early Childhood Teacher and Mum behind the popular parenting blog, Childhood 101. Readers come to Childhood 101 to find inspiration for creative and playful learning ideas for children, information about early education and parenting issues including sleep, nutrition and behavior, and tips for organizing kids, family and home life. You can also follow along on the Childhood 101 Facebook page.