Summer Camp guest post by Aimee and Bettijo of Paging Supermom. 
Arrrrr Mateys! We're Aimee and Bettijo, the Sometimes Supermoms from the blog Paging Supermom. With summer in full swing, we decided to step up our typical playdate with a little theme: Pirate Day. Check out these simple ideas to turn your around-the-house items into your next playdate (or rainy day) adventure!
We sent our kids off to dig through their dress-up boxes and closets to collect all things pirate while we threw together a couple last-minute costume printables to add to the fun. After we gathered a few crafting supplies, the fun began…

First up: our scrape-free Pirate Hook. This was definitely the most popular among our kids.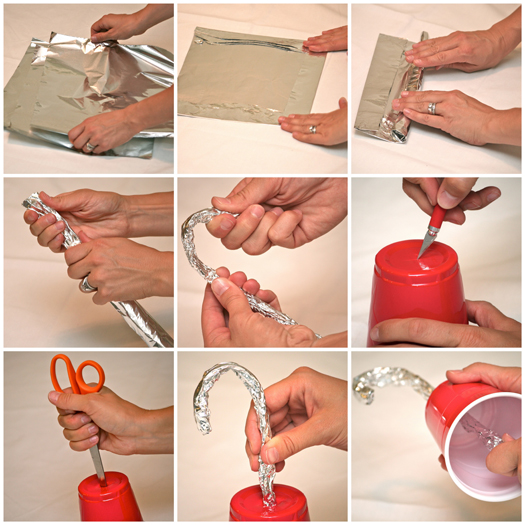 To begin, stack three pieces of tin foil. Fold in the edges an inch or two (this takes care of any sharp foil and assists in holding the sheets together). Starting on an edge, roll the tin foil into a snake-like roll; squeeze tightly so it becomes creased and sturdy. Gently bend into a candy cane shape, creating a hook with extra length on the straight portion to form the handle. With the cup upside down, use a craft knife to slit an X. Poke scissors through the slits to stretch the rigid plastic then carefully slide the foil hook handle through. Have your superkids hold the foil handle to create their pirate-hook hand.
Next, every pirate needs a Spyglass to find the treasure, right? If you don't happen to be a real pirate with an extra spyglass lying around, we've got you covered!

Download and print our Striped Spyglass Template. Trim the directions off the template leaving just the stripes. Using a glue stick, have your little ones glue the striped paper onto an old paper towel tube. If you have extra length on the tube, cover it with scrap black paper (or simply cut it off).
After your little pirates tucker out, treat them to an Orange Pirate Ship sailing on a cup of blue Jello. (If this is a last-minute playdate, skip the Jello and simply serve the ships alone.)

To make the sails, download our Pirate Sails Template. Cut out sails then slit the middle of the top and bottom using a craft knife. Thread a toothpick through the slits and stick the pick into an orange slice. Place atop a cup of blue Jello, if using. The smaller, 5-oz plastic cups are the perfect size for these treats and one regular 3-oz box of gelatin fills eight.
For more Pirate Playdate Fun, be sure to check out our blog. We have newspaper Pirate Hats and easy Eye Patches, both complete with printables!
Sometime Supermoms Aimee and Bettijo first met 10 years ago while their husbands attended graduate school in Washington D.C. In their pre-mom days both worked in design and marketing. Now Aimee has two boys and Bettijo has three girls — together they spent playdates relishing moments when they'd felt like they'd achieved their Supermom ideal, even if just for a minute or two. They would call these their "Supermom Moments" and the concept evolved into a blog www.PagingSupermom.com inspiring moms everywhere to create and cherish more Supermom Moments.