I love to grill. I have just discovered how easy it really is. Buy meat, dip meat sometimes, slab it on the grill, flip, and eat. So now that I know I can do this and it tastes good when I do, why would I cook any other way? I have been trying to get more grilling recipes from the web, Martha is always a good place. But I discovered this grill recipe recently and must share, Pork with Peanut Sauce.
My hubby and I love East Indian food and Thai food, (another love discovered in the last couple of years, I was missing out). So searching for Thai recipes, I found this great one for Grilled Pork with peanut dipping sauce. It resembles Satay sauce that comes in Thai food, Yum. I used pork, but you can use chicken. This would be great with chicken on a skewer.
I made the sauce first, using half as a marinade for the pork tenders. After 30-40 minutes or so of marinating, I grilled them. They grilled great, I even got the grill marks for presentation, big plus. I also grilled asparagus on the grill rack above. Flip the pork after a few minutes and check for doneness.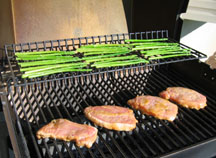 Then the best part. Cutting up pork into bite size pieces and dipping, no slathering, them in the peanut sauce. Jordan always says he could drink that stuff. Even my kids love to dip.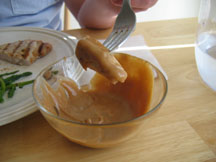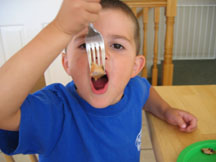 Pork and Peanut Dippping Sauce – great for marinades, pork or chicken.
1 lb. pork tenderloin
–grill for 6-7 minutes on each side.
Sauce:
½ c. Peanut Butter
¾ c. coconut milk
1 T soy sauce
1 T honey
Dash ginger and garlic
Mix all together. Pour half over grilled pork. Pour half into dipping bowls.
Please try this yummy recipe for pork and peanut sauce and have fun grillin'!