My kids think mystery meals are the best! And right as we're in the middle of summer fun, I've created a Super-Silly Mystery Meal menu which includes 15 items with summer-themed code names.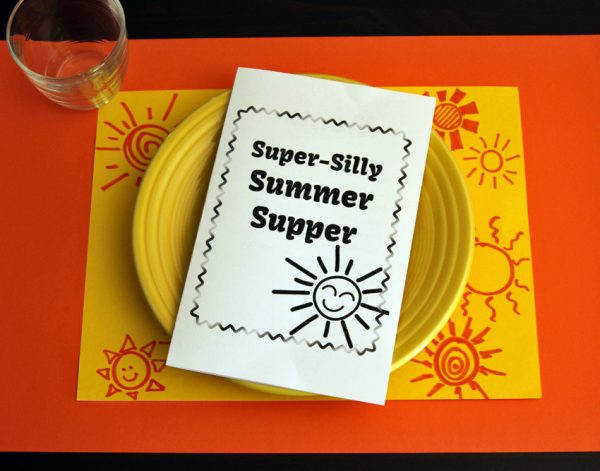 Super-Silly Summer Mystery Meal
Have you ever participated in a mystery meal? The whole menu is in code, so you can only guess what you are ordering. Even things like spoons, forks, and napkins are part of the menu. They are a little bit more work than your usual meal, but the giggles are worth it. You could do this meal with just your family, or gather a group of kiddos together for a fun summer get-together.
TIP: Print double-sided on card stock and fold in half. Make sure to print 1 per guest
Each menu item stands for a food, drink, or utensil. This meal has three courses, with five items per course. Your guests will fill in their menus with the item numbers, using each item only once. Make sure they write their names, too!
You can choose any foods or utensils to correspond to each code name on the menu. Choose things your kids like and make yourself a key for easy serving. It's fun to separate things that usually go together – for example ice and drinks or spoons and ice cream. Kids can get really creative trying to eat ice cream without a spoon!
Top-secret food items for our mystery meal:
As you'll see, some of the foods match their code names, like grapes for "beach balls" and the classic marshmallow/chocolate combo for "camp out." Others are a bit of a stretch, or completely random! Use our ideas, or come up with your own menu. I tend to do mostly finger foods, so it's not too messy, but you can definitely go messier if you're up for it!
1 Flip-flops – sandwich (cut in flip-flop shape)
2 Sand castles – vanilla pudding cup (served upside down)
3 Blue skies – blue straw
4 Beach balls – grapes
5 Farmer's market – carrot sticks
6 Swimming pool – ice
7 Fireworks – pretzel sticks
8 Catching rays – lemonade
9 Palm tree – fork
10 Sunglasses – Oreos
11 Beach Towel – napkin
12 Bare feet – potato chips
13 Road trip – cheese stick
14 Seashells – Madeleines (shell-shaped cakes)
15 Camp out – marshmallows & mini chocolate bar
The fun of this meal is not knowing what will show up on your plate each time. Fill each person's plate, one course at a time, and serve. Here's an example of one possible course – lots of accessories, but not much food!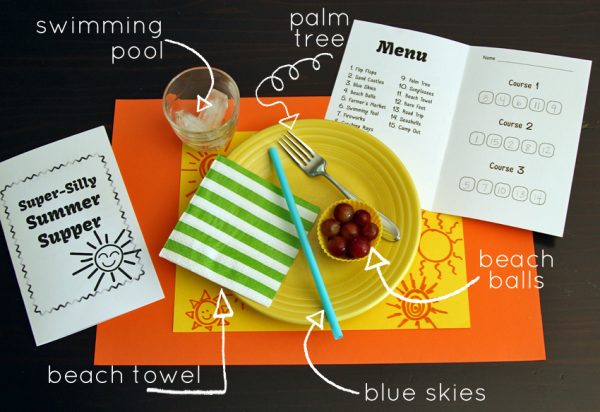 At the end of each course, take everything away. That means if you get a spoon or fork with your first course, you won't have it to use later on. Oh well!
If you decide to do a summer mystery meal with a big group, here are a few tips to help things run smoothly:
Set-up the dining table away from your serving area so the guests can't see the food.
Line up all the foods/utensils in order on your kitchen counter, with a sticky note number next to each one.
Make sure the plates have the guests' names on them, so you can return the same plate to the same person each time.
Have a couple helpers to fill the plates, which will cut down on the waiting time at the dinner table.
Keep the portions small, since the guests may not like all the food items. You can always do seconds at the end of the meal.
Isn't this a fun way to celebrate summer and liven up a simple meal? This will be our second year welcoming summer with a silly mystery meal and I think it will be a tradition for years to come!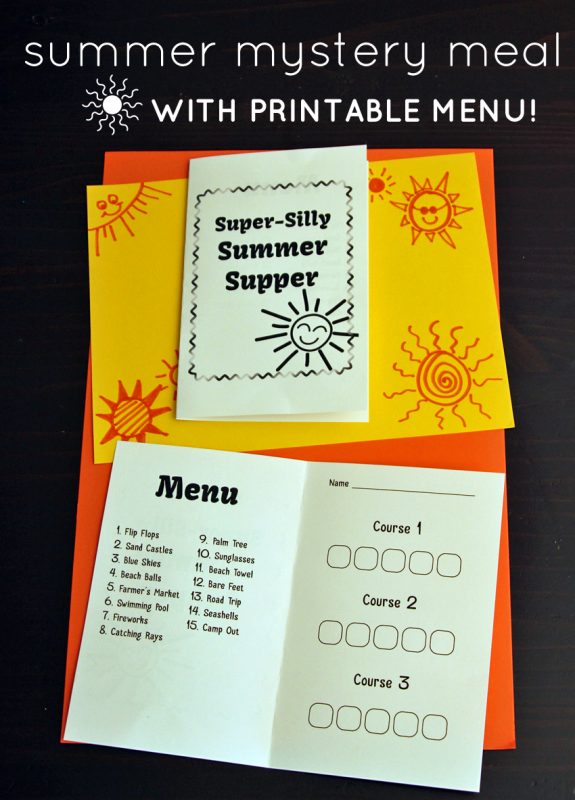 *Originally posted 6/13/16