We like to try making origami from time to time, but we're definitely still beginners. With only a few simple folds to make, these origami picture frames are a perfect project for kids (and beginner grown-ups, too!). Plus, these little frames make great displays for around the house or to give as gifts.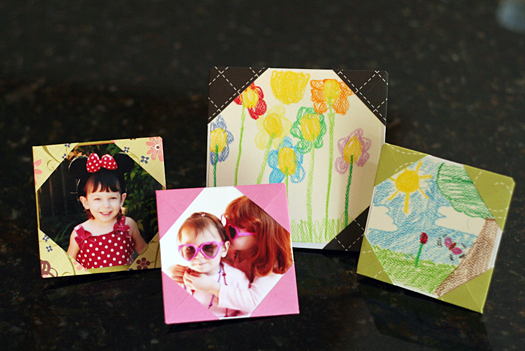 Supplies for Origami Picture Frames:
origami paper, lightweight scrapbooking paper, magazine pages, or other thin paper
bone folder, popsicle stick, or spoon for making crisp folds
photos or artwork to frame
optional: glue stick or glue dots, adhesive magnets
Start with a square piece of paper. Any kind of lightweight paper will work well for this project. If your paper is thick, it will be hard to fold!
A 6″ square makes around a 3″ frame.  An 8″ square makes around a 4″ frame (ours turned out 4.25″).
Step 1: With the colored side down, fold your paper horizontally and unfold. Then fold vertically and unfold. You will have two creases dividing the paper.
Step 2: Fold the top and bottom down about 3/4″. Use a bone folder, popsicle stick, or spoon to rub along the folds and make them crisp.
Step 3: Fold the two sides in as well. Try to make all your folds around the same size so your paper remains square.
Step 4: Flip the paper over and carefully fold each corner into the center.
After folding all four corners in, your paper should look like this: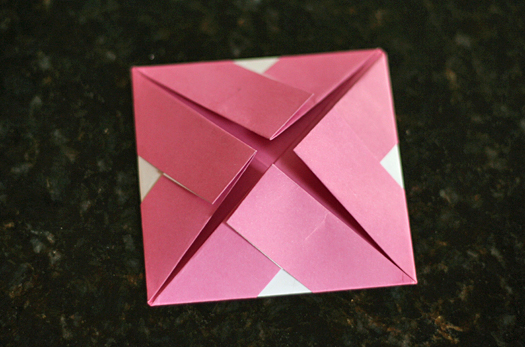 Flip your paper back over and check out your cool paper frame!
Now you're ready to tuck a small photo or a piece of artwork into the frame – just slide your photo under the corner flaps.
These frames work especially well attached to the front of a card, and the recipient can even remove the photo if desired. With a little finagling, you can fold one of the back flaps down and make a standing frame, too.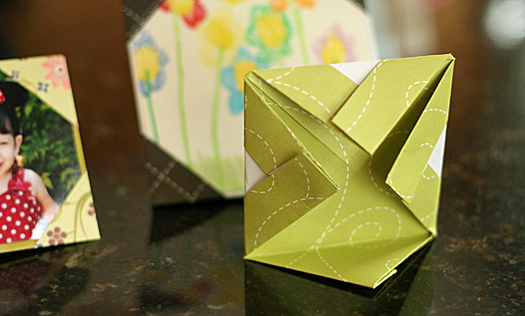 If you want those back flaps to lay flat, use a glue stick or glue dots to stick them down.
One more idea – add a magnet to the back, and you can display little photos and artwork on the fridge. So cute!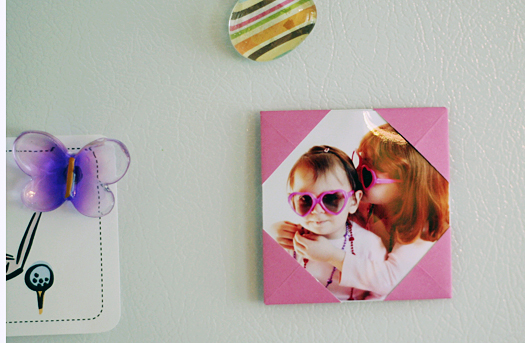 I think these would be perfect for Mother's Day cards – wouldn't Grandma love getting this in the mail?
Happy crafting!