Tomorrow, July 10, is Teddy Bear Picnic Day – what a fun holiday to celebrate! Pack a picnic lunch, a blanket and your favorite teddy for an outdoor meal. Or, if your weather is too hot or rainy, an indoor picnic would be just as fun.
Either way, don't you think your teddy bear would like his own picnic basket to take along? My girls and I had a great time making these teddy-sized paper baskets. They even made some felt sandwiches to go inside. So cute!
Supplies for a Teddy Bear Picnic Basket:
Construction paper, card stock, or brown kraft paper
Crayons, markers, paints, stamps, etc. for decorating
Stapler
Brads
Start with an 8-inch square piece of paper and a strip of paper for a handle. Make a cut from each corner toward the center, about 3.5″ long (see picture below). I measured out one square and used it as my template to cut the rest of our baskets.
Now it's time to decorate your basket anyway you choose – crayons, markers, paint, stamps, etc. Some of your design will get covered when you fold your basket, so an all-over or random design works really well. Decorate both sides if you like.
To fold your basket, pull the sides together, overlapping the corners in front of the center piece. Secure with a staple and repeat on the other side. It's tricky to explain, but not tricky to do! Use the picture below to see how it should look.
Punch holes on the sides of your basket where you want to attach the handle. Punch holes in both ends of the handle, too.
Attach the handle to your basket with two brads.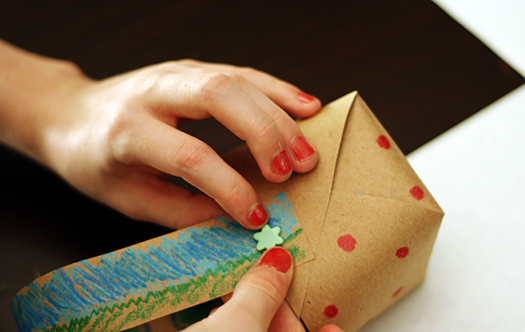 Now your teddy bear is ready for a picnic!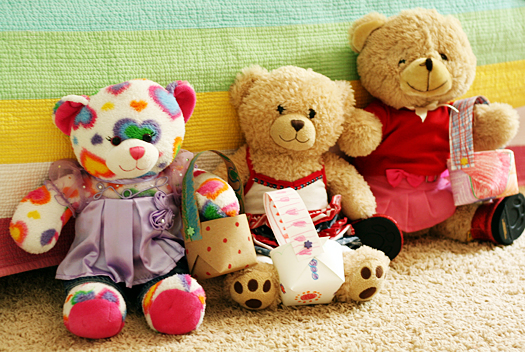 Here are a few ideas for teddy bear-inspired treats for your picnic. With the hot summer weather, I'm thinking a breakfast picnic would be perfect!
We might splurge on gummy bears for dessert, paired with a big stack of bear books.
Happy Teddy Bear Picnic Day to you!