Guest Post by Carrie of This Mama Makes Stuff

Journaling is such a great activity to do with kids. I love it because I am able to preserve a little piece of who my children are at a particular moment in time.  And like we all say, they grow up way too fast.  I also love it because I am terrible at scrapbooking memories.  As a busy mother of three, I just can't seem to find the time.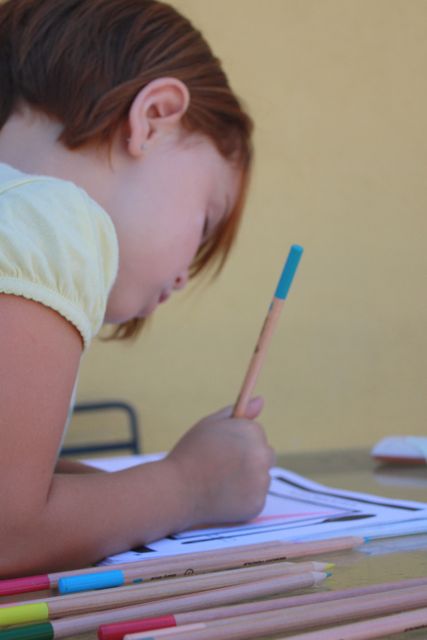 My kids love journaling because they LOVE talking about themselves. Even more, they love looking back through their journal to read about themselves.  What kid doesn't?  Little do they know, they are helping me do the work of preserving our family memories.
"Back to School" is a perfect time to start journaling with your child.  Here are some of my best tips for preserving personality with a keepsake journal:
Begin a journal with your child as soon as he/she can answer questions and draw semi-legible pictures (you know, that first circle head with arms growing out of the sides).
Use a simple notebook, sketchbook, or a purchased prompt journal.
Make the journal long lasting and a family keepsake by using acid-free paper, pens and pencils. I really like Memory Colored Pencils by EK.
Interview children who cannot write yet and record their thoughts as verbatim as you can. For example, last Halloween, my 3 year old daughter was "Fancy Nancy", but I recorded it as "Wancy Nancy" because that is how she said it. She also said her favorite candy was "Kitty Kats" (Kit Kats).
Let children who are new to writing record their own thoughts. Try not to edit their words or spelling. I treasure my daughter's journal from her Kindergarten year because the phonetic spelling always cracks me up.
Integrate drawing areas into your child's journal and use creative drawing prompts because many kids are able to express themselves more freely in pictures. Self portraits are a great place to start.  My kids love seeing the self-portrait I drew when I was five years old. Make sure to date and label each drawing!
Insert a handful of select photos (school photo, birthday, Halloween, Christmas) but don't let the adding photos hold back the progress of writing in the journal.
Set aside time each week to work a little on the journal with your child.  You will be amazed at the memorable conversations you will have!  It wasn't until I sat down last year with my (then three year old) daughter that I realized her deep desire to be a mermaid when "she grows up".
So start now and have fun! You'll love what they come up with and will have it forever!
Carrie is a mountain biking, minivan driving, wardrobe refashioning, public school advocating, church going, square-foot gardening, dog owning, mother of three living in the OC who blogs at This Mama Makes Stuff, tweets as thisiscarrie and created This is Me – a kid's first keepsake journal.