This Tissue Paper Butterfly Mobile Craft is a beautiful decoration for summer or spring! This project is great to do with kids, and, combined with paper flowers, you can create gorgeous wall arrangements.
Tissue paper is one of my favorite materials for crafting with my daughter. For one thing, it's free (as long as you save it whenever you receive a gift), and it comes in every color of the rainbow, so you can make almost anything with it.
These paper butterflies can be used in lots of different ways – Tie the butterfly to a piece of string to form a mobile as we did or as fantastic gift decorations in lieu of a bow, they also make wonderful props for a Butterfly Tea Party Birthday.
Tissue Paper Butterfly Mobile Craft
Kids of all ages will love making these butterflies. The process is easy, and they'll get to plan and decorate their rooms in the process.
Supplies:
Tissue papers in contrasting colors
Pipe cleaners
String
Scissors &
2 paper straws
Instructions:
All you need to make these pretty paper butterflies are tissue paper and pipe cleaners. Simply cut up tissue paper in squares and in ovals in varying sizes as shown:
For each butterfly, you will need 2 ovals and 2 rectangles in contrasting colors. Stack two pieces of rectangular colored tissue paper. Be sure it sits horizontally on your table. Similarly, stack the 2 oval cutouts on top of each other.
Starting from one corner to the other, slowly fold the paper accordion style. Younger kids can take an adult's help for this step.
Simply lay them out exactly as shown, scrunch them together down the middle, and fasten them all together with a glue stick and then a pipe cleaner. The diamond-shaped wings are at the top and the circular wings at the bottom.
Now twist a black pipe cleaner around the butterfly's middle at the top by twisting the two ends around themselves. Twist the pipe cleaner to secure and form antennae with the ends.
You will need to open up the folds to show off the colorful wings.
For our mobile, we made 4 butterflies. Two big and two small. You could make all of them the same size and same color too.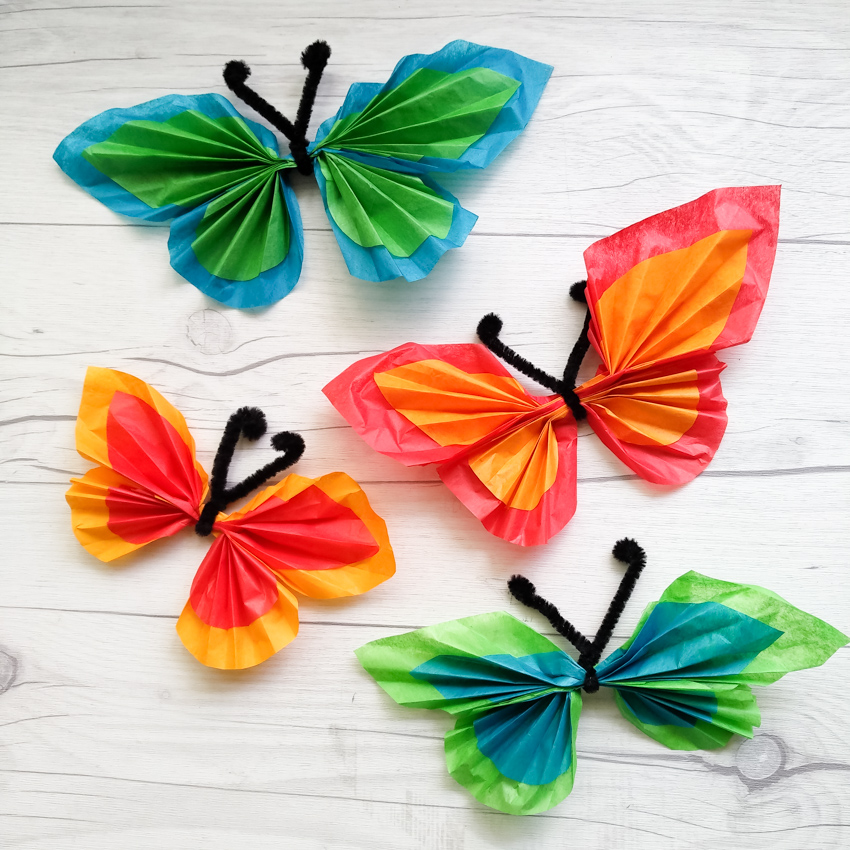 Pass a thread through 2 paper straws to form the frame for the mobile. You could use a hoop, a ring wire of some kind or even a cloth hanger.
Tie the loose ends of the thread to the tentacles of the butterfly. Place the straws one on top of the other in a + form.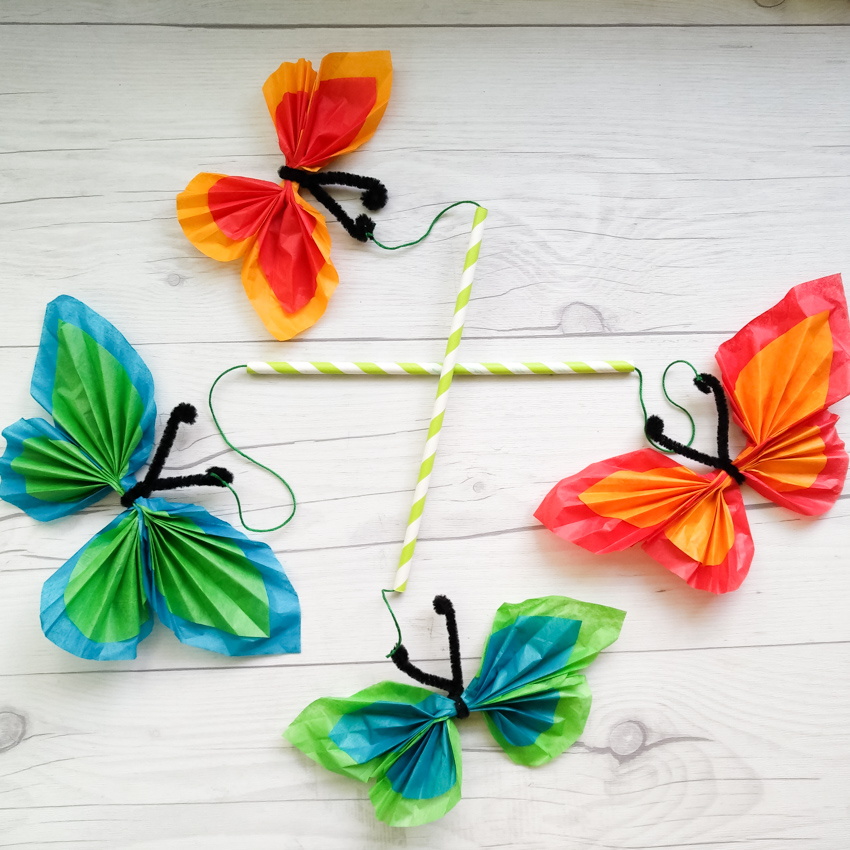 We twisted another pipe cleaner at the center so that both the straws are secured at the middle and fold the extra to form a handle at the top.
That's it. You butterfly mobile is ready to be suspended by a thread in front of a window or over a crib in a child's bedroom.  These take less than a minute to make once the paper is cut. So, make one or go by the dozen. In a classroom setting, each child can make his butterfly and all of them can be strung from the ceiling in the middle of the classroom.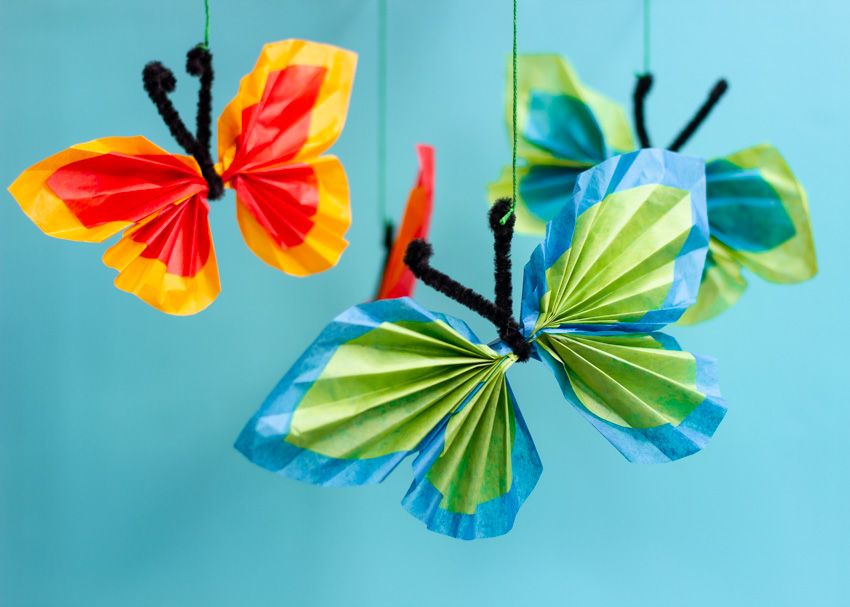 Watch as they light as a feather butterflies twirl, and sway even to a slight breeze.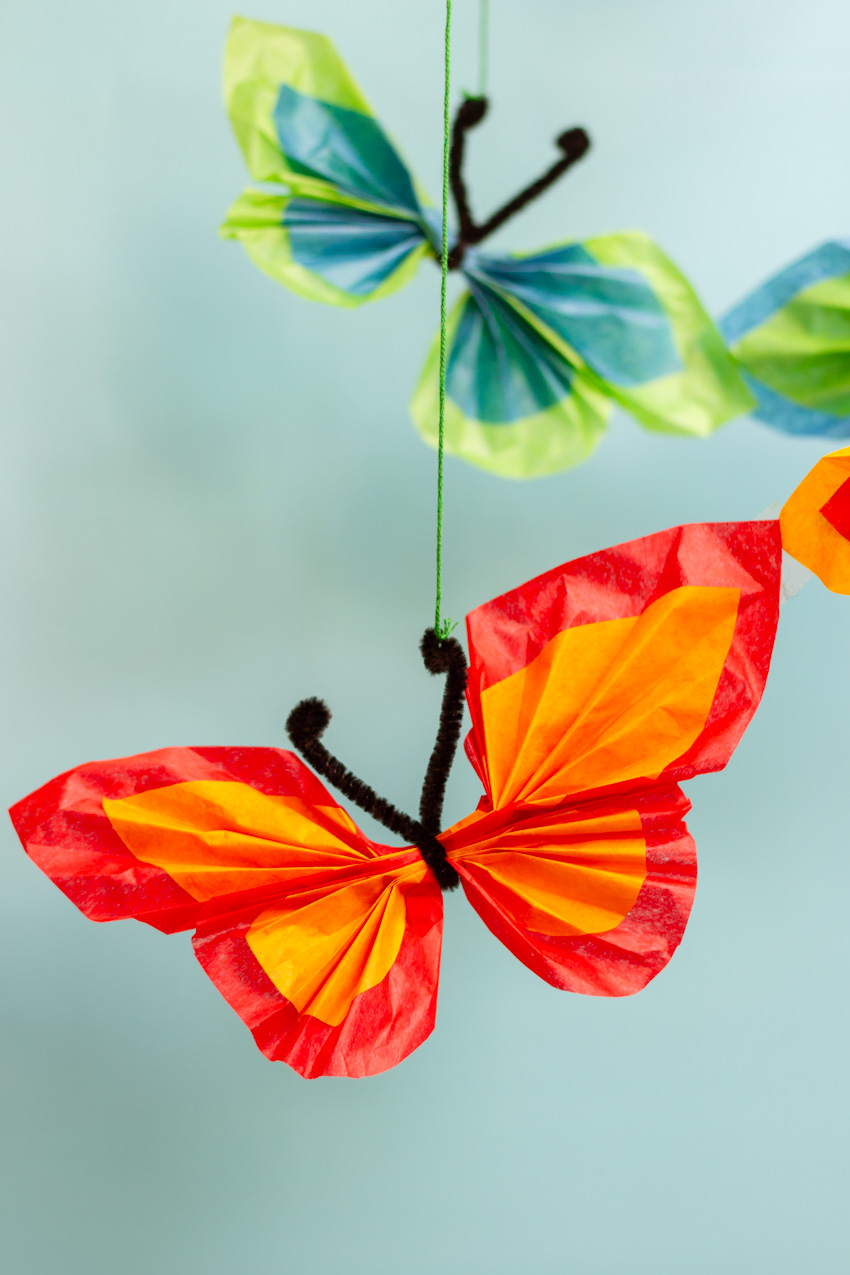 Display it wherever you can use some color, use it as a storytelling prop, or even write your own story about the fluttering butterflies.  So bright and cheery for spring or summer.
Pin this craft for later: