Whether sandwiched between chocolate and graham crackers or eaten plain, toasted marshmallow has become a part of the culture of summer. Gathered around a campfire, a few sticks and a bag of marshmallows can complete a enjoyable evening between friends and family.
Toasted Marshmallow Rice Crispy Bars
After years of moderating debates between friends who like their marshmallows flaming and those who prefer a golden brown, my preferences have fallen in-between. I like toast my marshmallows to a lovely brown before plunging them into the flame to get a charred coating. The warm center and toasty outside add a unique balance between the extremes.
I like to think it's the best of both worlds.
Toasted Marshmallow Rice Crispy Treats are soft and chewy. Miniature marshmallows are toasted under the broiler before mixing into the cereal, creating a twist on the traditional bar. The darker the marshmallows become while toasting, the greater the flavor they will lend to the finished product. A little salt and an undertone of vanilla made these bars a favorite in my home.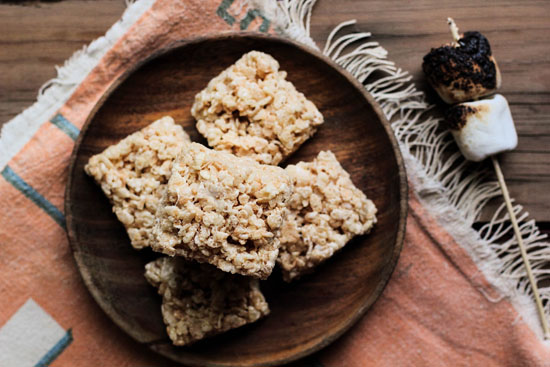 Toasted Marshmallow Rice Crispy Bars
6 cups crispy rice cereal
10.5 ounces (1 bag) miniature marshmallows
3 tablespoons butter
1/4 teaspoon salt
1 teaspoon vanilla extract
Grease an 9 x 13-inch pan. Place the crispy rice cereal into a large bowl. Set aside.
Spread out the marshmallows into a single layer onto a large cookie sheet lined with a silicon baking mat or parchment paper. Place on the top shelf of the oven and broil the marshmallows until they are puffed and a very dark brown with a few black spots (the more color the marshmallows have, the more pronounced the flavor will be in the bars). Watch the marshmallows carefully so that they do not burn!
Meanwhile, in a large pot over medium heat, melt the butter. When the marshmallows are toasted, immediately scrape them into the pot and stir until the marshmallows are melted (a few lumps are okay). Stir in the salt and vanilla extract.
Pour the melted marshmallows into the cereal and stir until evenly coated. Spread the cereal into the prepared pan. Lightly press the cereal down the cereal. Let cool and cut into squares. Store in an airtight container at room temperature.