Now that it's so dark when we sit down for dinner, my girls have been asking to eat by candlelight almost every night. Candlelit meals are pretty magical, aren't they? Our recycled jar votive holders were looking pretty plain, so we made some lovely covers using basic tracing paper and art supplies from our stash.
Supplies for Tracing Paper Votive Covers:
Tracing paper
Jars
Markers, oil pastels, and/or watercolors
Double-sided tape or glue stick
Tea lights (regular or battery-operated)
Cut your sheets of tracing paper into strips that will fit your jars. We used jelly jars from the recycle bin, and our strips were 3″ tall. Cut the length so each strip has just enough overlap to tape or glue closed once it's on the jar.
Decorate your strips with markers, oil pastels, or watercolors. Each medium gives a different look, so you might want to experiment first on an extra sheet of tracing paper. My girls tried all three, and liked the brightness of the oil pastels the best. Random designs, patterns, or scenes all look great!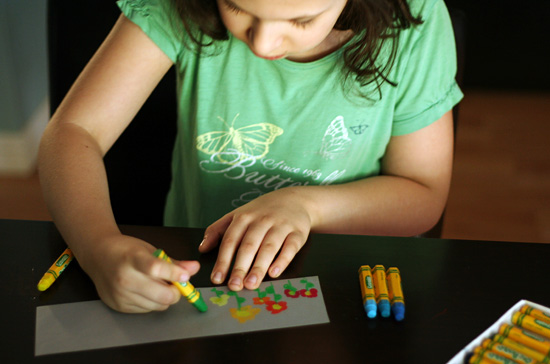 The watercolors will be the most finicky – tape down your strips before painting and make sure your brush is not too wet. We dabbed our brushes on a piece of scratch paper before painting on the tracing paper. The paper will want to curl, and it will wrinkle a bit, but once it dries it will look beautiful!
Take a finished strip, wrap it around the jar, and secure with double-sided tape or a little bit of glue stick. Add a candle and admire your beautiful work! (We stuck with battery-operated tea lights so the girls could take charge of the "lighting.")
No jars around? No problem! Make a ring with your decorated strip, secure with tape, and set over a battery-powered tea light. These looked so pretty down the middle of our dining table. Thanksgiving centerpiece, perhaps?
You could make new covers to change with the seasons, plus this is a great craft for a wide variety of ages. They also look pretty unlit, and would make adorable vases. I just love having little glowing pieces of my girls' artwork on our table and mantle.
Have fun adding a little kid-made brightness to these dark, late-autumn evenings!