I've been needing a new shower curtain for a long time, but I couldn't find what I wanted for the price I wanted to pay. I recently updated my duvet cover for my bed, and the old cover was a Pottery Barn one that I got on eBay. I loved it, and it matches my master bath perfectly, so I decided to cut it up and turn it into my shower curtain. I can't believe how easy it was! And cheap–total cost $0. Love that. Here's how to take a bed sheet (or duvet cover) and make your own custom shower curtain.
Make a Shower Curtain From a Bed Sheet
Supplies:
Bed sheet or duvet cover
Scissors or rotary cutter and mat
Iron
Sewing machine and thread (with buttonhole stitch)
Instructions:
1. Lay your sheet and shower curtain out on the floor and measure your curtain shower curtain. I imagine they're pretty standard, so you could also use my curtain's dimensions, which are 70″ by 70″. Then add a little for the hems. I added two inches on each side, three inches on top, and eight inches on the bottom. So my dimensions for cutting the sheet were 74″ x 81″. Cut your sheet down to size.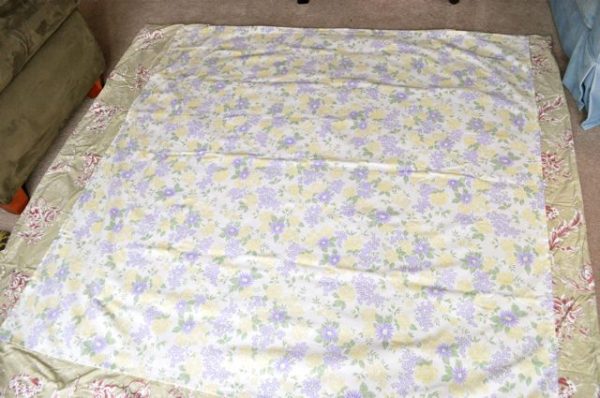 2. For the bottom hem, fold bottom edge up 4 inches and iron, then over another 4 inches and iron. Stitch close to the edge of the hem to secure. For the top hem, fold over 1.5″ and iron, then another 1.5″ and iron again. Stitch close the edge of the hem to finish.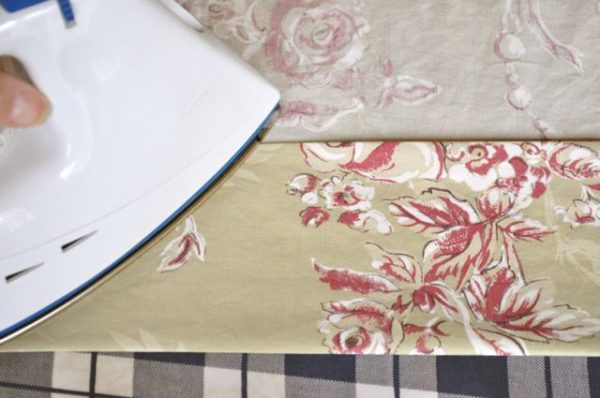 3. Fold each side hem over 1″ and iron. Then fold over 1″ again and iron. Stitch in place close to the outer edge of the hem.
I hemmed my top and bottom first, then hemmed the sides.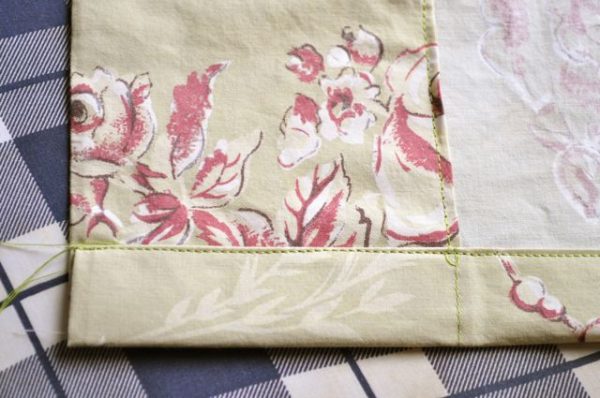 4. Using your current shower curtain as a guide, mark where each hole is for the shower curtain rings. If your curtain has grommets, mark the middle and then draw a 1/2″ line in the middle of the top hem. If you don't have a curtain to use, use my curtain's spacing: on each outer edge, mark 1″ from edge. Other marks should be 6.25″ from each other across, with a total of 13 marks.
5. Using your sewing machine, sew a button hole on each marked line in the middle of the hem. I used a 1/2″ button in my machine's automatic buttonhole device. Use a seam ripper to cut a hole in the middle of the buttonhole.
Insert curtain rings in each buttonhole opening to hang your curtain. Easy peasy, and made to order for much less than most cute shower curtains!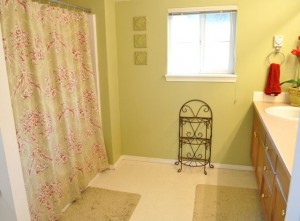 Pin this post for later: