This Washi Tape City Skyline Card is perfect for every occasion. Make this as a stand-alone art piece or as a greeting card that you will love to gift!
DIY Cards and washi tape are two things I get super giddy about. We used Washi tape to make Birthday Cards with Washi Tape Cakes & even Washi Tape Pencil Flags.
Today, we've combined the two together to make this Washi Tape City Skyline Card that is perfect for any occasion. You can make this as a stand-alone art piece or use your rainbow washi tape into a darling Washi Tape City Skyline greeting card that will put a big smile on someone's face.
Washi Tape City Skyline Card
Grab some colorful washi tape and get ready to make this!
Supplies:
Lots of Washi Tapes – Preferably in Rainbow Colors.
Blue Cardstock – Letter Sized or smaller
Scissors
Black marker, White Marker
Construction paper – White for clouds, Yellow for the sun.
Optional ( Paper cutouts – lettering and other accessories)
Instructions:
Start by folding a letter-sized cardstock in half. This will form the base of our card. We used a blue card to show a blue skyline, but a white cardstock works equally well.
Once folded, we now have a horizontal card. To make the City Scape, starting from the bottom of the cad, slowly line up strips of washi tapes to resemble City Scape Buildings. You can move from left to right or vice versa. Have fun with this process; Let the kids use washi tapes in different sizes, lengths, and patterns. Mix and match till the card is covered with a beautiful CityScape.
Embellish the card with some cloud cutouts from white cardstock or draw and color in your own using white markers or chalk pastels. Add a greeting or two and your card is ready.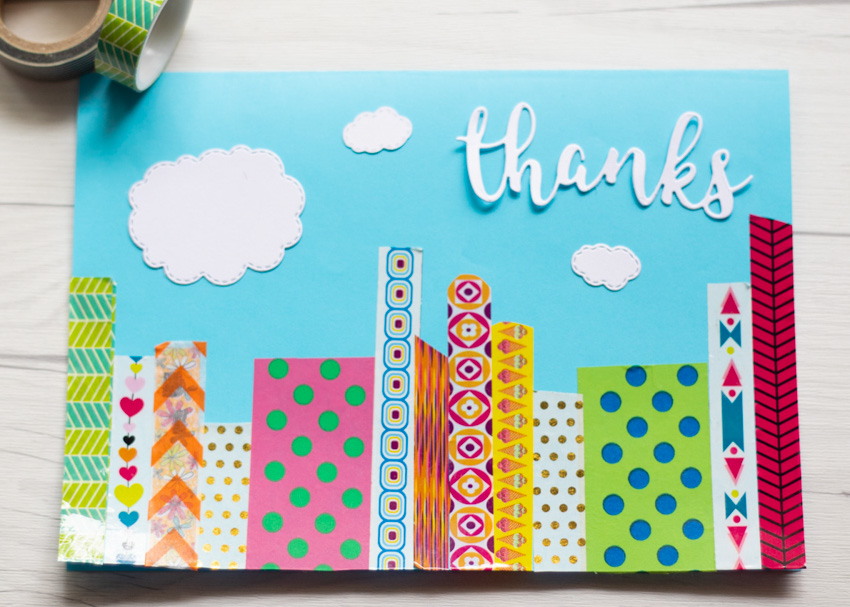 This washi tape city skyline card is a great craft to make with a larger group of kids because the supplies are fairly inexpensive and everyone can put their own creative touch on it!
Stick an assortment of your favorite shapes all over the front of a blank card – either store-bought or make your own from folded card stock. A lovely way to send warm weather greetings no matter the season.
Pin this craft for later: