Back when I posted about applesauce, I saved one apple to experiment on. When I was teaching Kindergarten, this was a fun month long science project that my students loved, so I decided to do it with my kids. They loved discovering an apple and all it's parts. Here are 3 ways to make your apples part of some weird science!
Weird Science with Apples
1. Dissect an apple:
Get one red ripe apple and cut it in half. Let the kids use their five senses to investigate their apple. Feel, Smell, Taste, Hear, & See. What's it all about? What is inside? Look at the core. Talk about the seeds and count how many there are. What shapes come with an apple?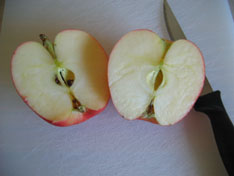 2. Let the apples rot:
Now cut the apple into pieces. You will get to see what happens to each piece of the apple as time takes it toll. We looked at it almost everyday and talked about what was happening. The moisture is evaporating and leaving it to decompose. It got pretty gross in the end, so after one month, it was time to say goodbye.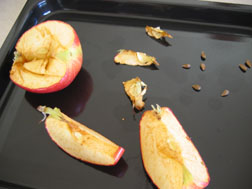 3. Shrunken Halloween Apple Heads
Create a fun look for your Halloween house with some silly and spooky apple shrunken heads! I love these 3 ideas for your Halloween decor. Be sure to start early, as these apple do take some time to start shrinking into their beautifully scary heads!
Apple Faces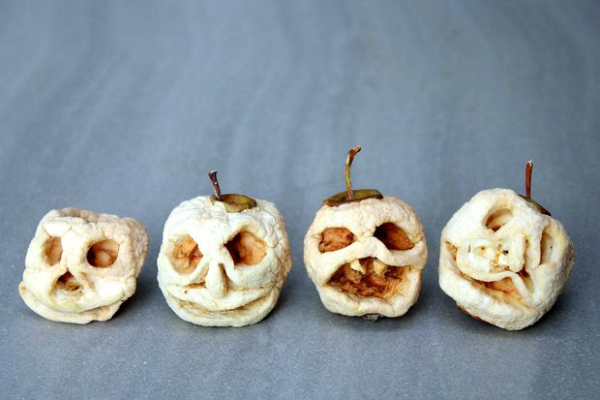 Old Apple Lady
Skeleton Apple Heads
Oh ya, be sure to save some of your apple slices for a delicious Apple Pie Galette as well, perfect for a fall dessert or a Thanksgiving table! It's fun to make these apples into spooky decorations, but they are also yummy in pie!!! There's just as much science and math going into making and baking an apple pie, so this is the perfect way to end your theme of Apple's Weird Science!
Images: mimiori, Martha Stewart, Instructables, This Week for Dinner