We're decorating the house with these patriotic yarn wrapped jars to celebrate the 4th of July holiday. But you can easily transfer out these yarn colors for the colors in your home town for the country you live in, the sports team you cheer for, or the school colors your children attend. So many ways to get festive with these upcycled mason jars!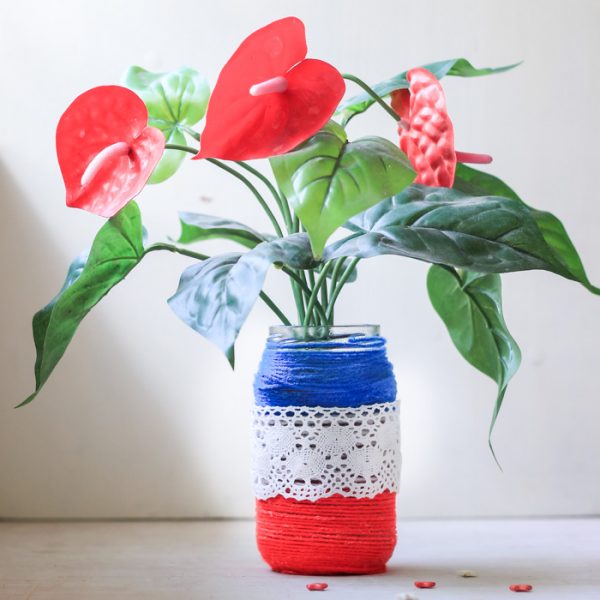 We filled these super simple yarn wrapped jars with a beautiful plant are sure to brighten up any patriotic-themed party table!
Patriotic Yarn Wrapped Jars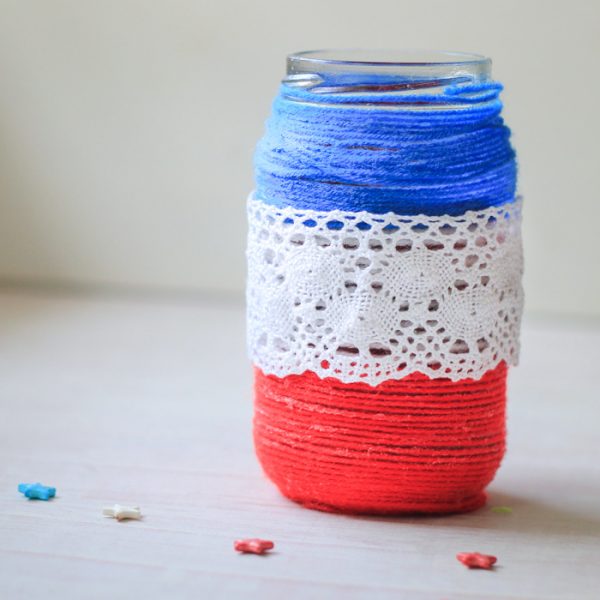 Supplies:
A clean glass jar or bottle.
Modge Podge
Sponge brush
Yarn – in Red White & blue
White lace
Scissors
Sand paper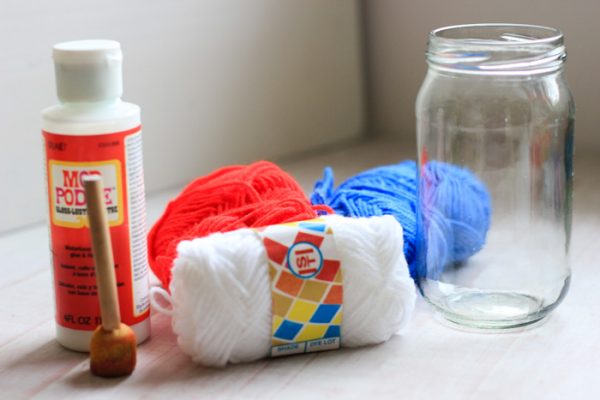 Instructions:
Start with a clean glass jar. To remove any wrapping, oil or stickers, soak the jar in a tub filled with warm water & a spoon of dishwashing soap overnight. Rinse and dry. Use sandpaper to sand the outer surface of the glass jar. this helps the yarn to hold better.
Place the jar upside down and cover 1/3rd of the jar with a layer of Modge Podge using the sponge brush. Start from one end and slowly wrap the yarn around the jar, each time adding a layer of glue below to secure it.
Start the second layer using white yarn. Again, just a bit of Mod Podge and yarn wrapping. Wrapping the jars is really easy and goes quickly. I basically just spun the jar around and guided the twine with my finger.
I finished with some blue yarn till the top. It was looking rather plain and my daughter suggested we add some gorgeous white lace around the white yarn. Measure and cut the lace to wrap around the bottle once and then secure it tightly using a glue gun at the back. Let the jar dry completely before attempting to add something to it.
For your Fourth of July celebrations, these adorable Patriotic Themed Yarn Wrapped Jars are a perfect way to add a patriotic touch to your porch and party. Use them to hold flowers, forks, spoons, a candle and even your 4th of July party snacks & decorations.
Pin this post for later: