Show dad or granddad how awesome he is by making him a personalized Zig-Zag Mini Book for Father's Day!
Are you looking for a Father's Day gift idea for the special dad in your life? I created a mini Printable Zig-Zag Book that the kids will love to customize and the dads will love . It's the perfect little pocket size gift for Dad, Grandpa, or anyone you want to share memories with!
Just like our Father's Day Printable for "We Love Dad Because…", It's the perfect addition to all the Father's day festivities you have planned.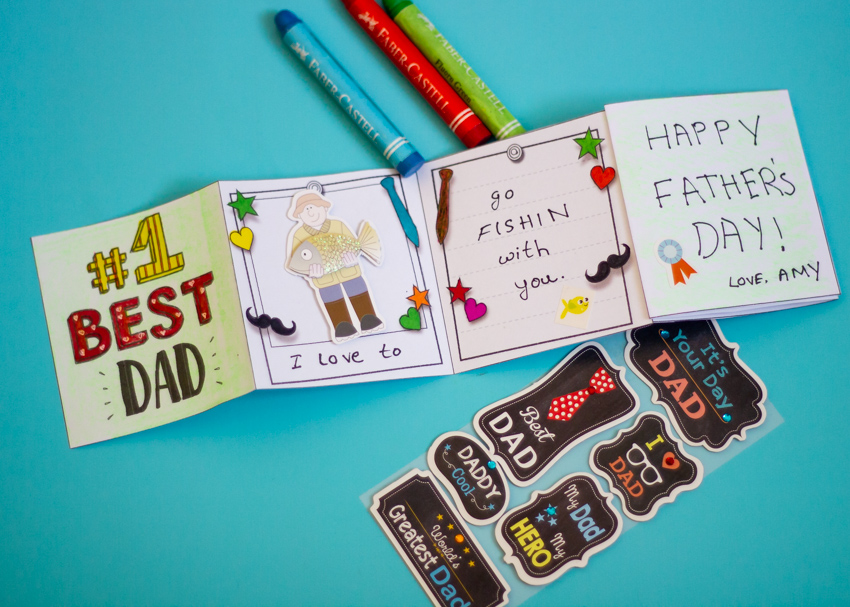 Printable Zig-Zag Mini Book for Father's Day
Instead of a card, I thought it would be fun to create a book for my daughter to let her dad know how much she looks up to him.
Supplies:
Letter sized white construction paper
Scissors
Glue stick
Markers
Stickers ( optional)
Instructions:
Download the free template and print on a white cardstock. The Zig-Zag Mini Book can be printed on one sheet of paper and doesn't require a color printer.  I printed one out for my daughter and let her color and design to her hearts' content!
We used Sharpie markers to color the fun elements at the corner of each frame – hearts, ties, a mustache, even a star! You could color using crayons or colored pencils too.
Once the basic shapes and cover page is colored, cut along the outer edge and in the middle as shown.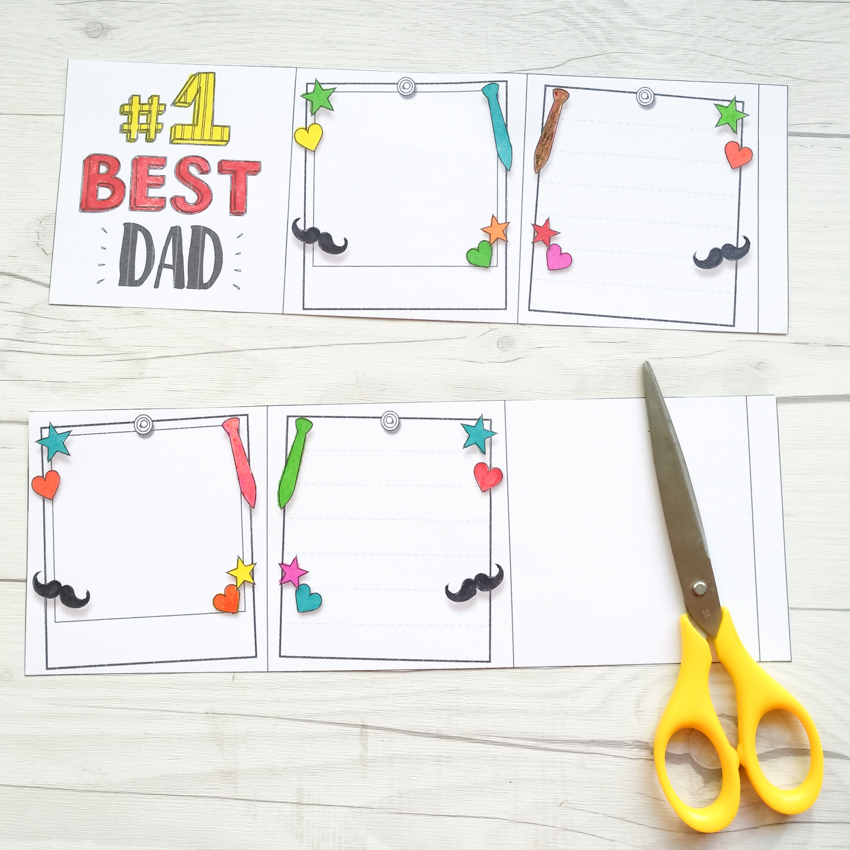 Accordion fold each section of the cutout.
Now glue the two parts together along the extra space provided. A simple glue stick works perfectly. Let dry. Our Zig Zag Booklet is ready to be filled.
Have each member of the family grab a colored pencil and write down all the things they LOVE about dad! You can draw pictures or write words, whatever you want to fill up the page!
Some fun prompts that you could try are
I love to _________________________________ with my dad
5 reasons I love my dad ___________
My Dad always laughs when _____________________
5 Things My Dad does best _________________
My Dad is _______________
You could come up with your own too.
Use the lined page of the book to write a few words.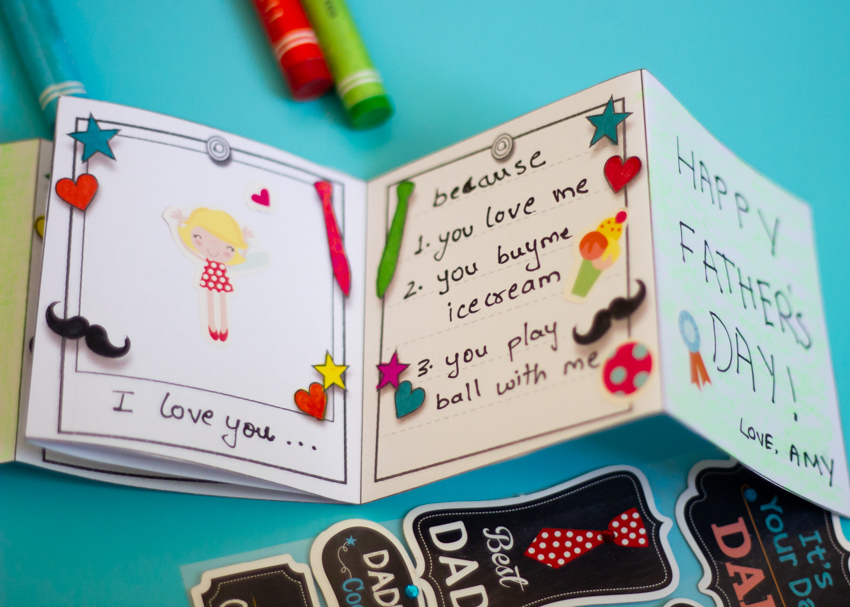 Use lots of stickers, Cut a photo or draw a sketch in the frames that hold the pictures.  Each page could depict a different role that their dad plays, and how the kids want to be just like him!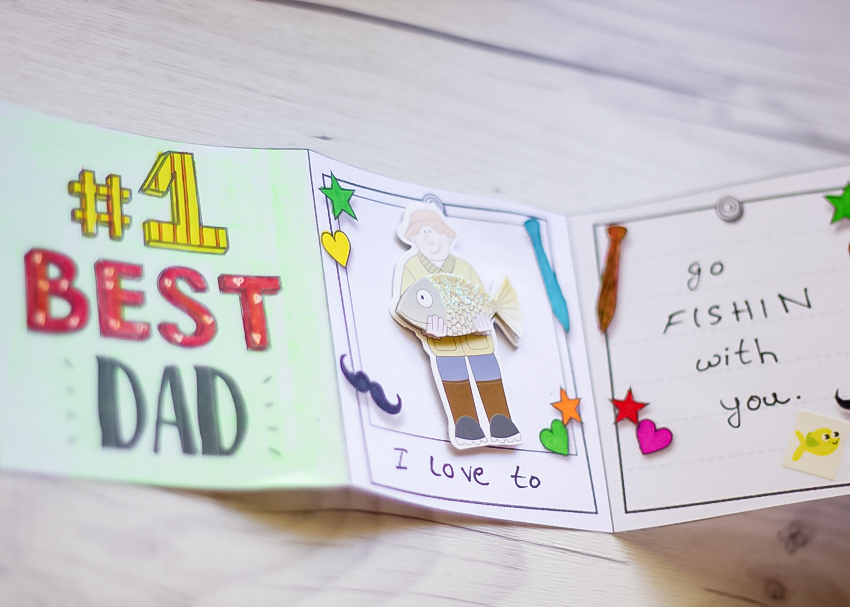 Gift this and see the look on dad's face when he sees a sweet and personalized book made just for him!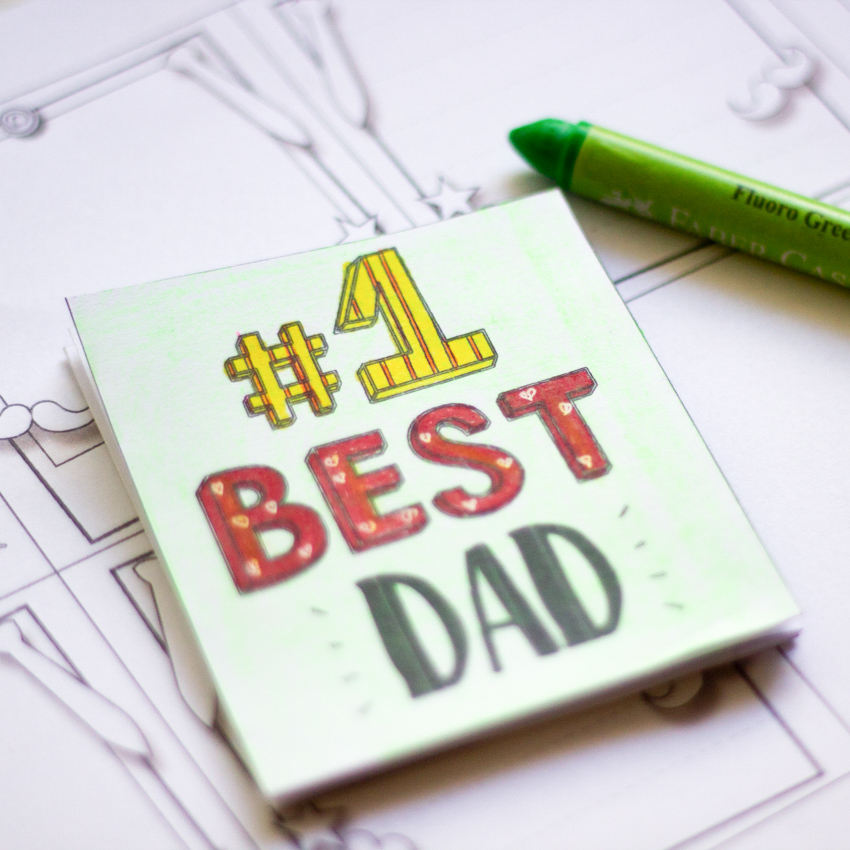 What are your plans for Father's Day? Check out more kid-made gifts for dad  – father's day handmade dish and diy keychain & father's day fridge magnets