We are well into the summer season, and in comes traveling with kids. My kids are out of school and it's time to take a few trips. Whether it's a road trip, by car or by plane, you might need a thing or two to keep the kids busy as you go.
I've come up with 12 games, activities, and crafts for traveling with kids. I tried really hard not to buy much, I wanted to keep it inexpensive as I have 3 children and didn't want to spend more money than it already costs to travel. I found things from around the house we already had, aside from 1-2 new things, and turned it into a few fun games.
12 Activities for Traveling with Kids
Most of these items we purchased at the craft store. But you can find most of these items at your local grocery store in the kids area or the office and school supplies area. Check out Amazon for a few of these items that are harder to find, links in each description.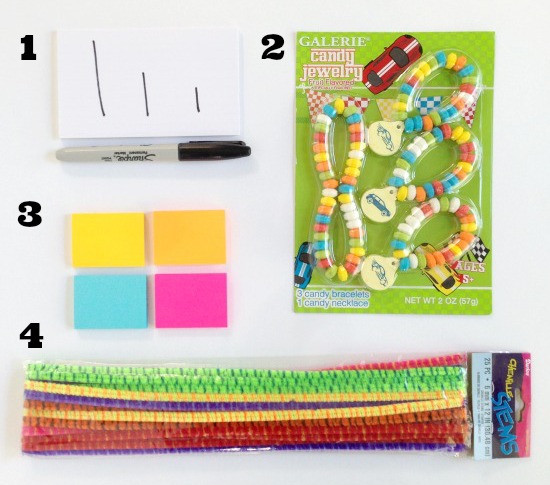 1. Squiggle Drawings on Index Cards: This is a simple way to bring new life to coloring with squiggle drawings. Add a line, circle, or loop to a white index card and let the kids come up with what it might become. Be sure to have crayons nearby as you let them create a new picture from these squiggles.
2. Candy Bracelets: I found these at the store and thought they'd be the perfect treat to include in the road trip. I don't like my kids eating too much candy as we travel, but this one might last them a little longer than the average candy bar. And I couldn't resist them with the car image, perfect for road trippin'! Candy Bracelets on Amazon
3. Sticky Notes Window Pictures: These small pads of sticky back paper are the perfect way to create fun images onto car windows. Kids can make letters, shapes, and designs with the sticky notes on the window. You can even bring a tray of sorts to have the kids create images with the paper on their laps. With these reusable notes, kids can make one image and then take it all down to create a new image. Never ending fun!
4. Pipe Cleaner Creations: This one keeps kids engaged for a long while. My kids can play with pipe cleaners forever, making shapes, loops, chains, small people, you name it. You can bring buttons or bead to add to them as well. They can also make letters out of the pipe cleaners and spell words for a little added educational bonus. Pipe Cleaners on Amazon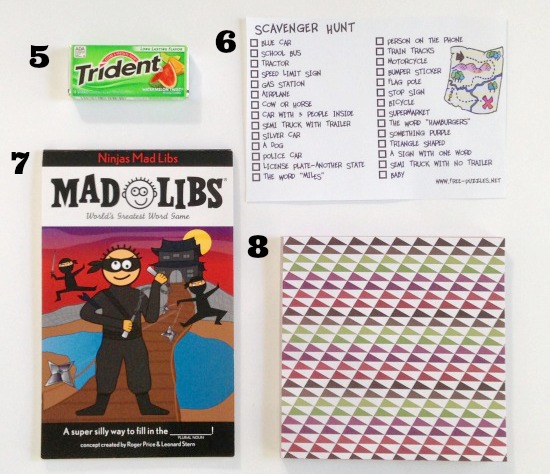 5. Chewing Gum: A good ol' package of gum, giving kids something to chew on besides treats from the gas station, and one pack can keep a whole car load of people happy. If you can, buy a whole pack for each child and they will think it's the best thing in the world to have their own all to themselves!
6. Road Trip Scavenger Hunt: This is the perfect activity for kids while traveling. I printed off this road trip scavenger hunt we created, but you could easily type up your own depending on the things you'll see on your trip. It helps them keep watch on the scenery, stay active as they search for items, and keeps them busy for a while as they look. You can give each one of your children their own, but I like to print out one for the whole family to work on together and helping each other, discouraging competition. I love when they have things to do together.
7. Good Ol' Mad Libs: I love these word games. My kids will keep at these for hours. You might get tired of getting asked to come up with nouns and more nouns, but the kids think it's the funniest thing! You can buy Mad Libs on Amazon, come up with your own, or print some out with these from Classroom Jr.
8. Square Colored Paper: Sometimes a simple pad of paper will last kids a long while. The trick to giving them paper is to provide them with ideas on how to use it. My kids love to make paper airplanes and they fly them back and forth to each other. You can also give them a set of origami instruction to go with it, or even create these origami frames as the kids draw pictures on the inside. Endless possibilities. Origami Paper Squares on Amazon
9. Clear Tape: I know this seems silly, but my kids will play with tape for hours. You might be worried about what they will stick it to, but just be sure to talk to them before hand if there's anything you don't want stuck! My kids like to color a little tape with black marker or pen and make a mustache, adding to their upper lip. Or they can tape long strips across the whole back seat from window to window. I've also given my kids a small open box and they use tape to cover it up. They think it's the coolest thing to have their own roll of tape to do whatever they want with it.
10. Sticker Story Books: I made small little sticker storybook starters out of index cards cut in half and a stapler. Then I give my kids a set of stickers that they can add on one side of the paper and write a story on the other side of the paper, creating a little story book. Or they can make it a color book as well, coloring a scene to incorporate the stickers, like the frog or mermaid stickers I provided.
11. Yarn or Embroidery Floss: My kids love to play with yarn. There are so many things they can do with a ball of yarn, maybe even some finger crochet in the car. Above in the photo is thin yarn or embroidery floss. I encourage my kids to make friendship bracelets with them, learning to braid by cutting 3 strips together and tying a knot at the top. You might want to bring some safety pins as well, to help them with their braid making.
12. Paper Clips: Another super simple object that my kids love to play with. They can make chains, necklaces, or open them up to make more structures. My kids have strung paper clips from one side of the car to the other, attaching them to the hand rails, and then hanging their toys from it. All sorts of fun things to do with paper clips.
More traveling with kids ideas:
Have fun traveling with kids on your next family vacation!
*This post contains affiliate links. Thank you for supporting Make and Takes!