It's Movember and we're proud to show our support of the mustache with our #mustachebombing adventures. I want you in on the fun too, showing your support for men's health. Here are 5 easy ways you can make a mustache to wear and celebrate Movember! Maybe you'll even want to throw a mustache party! There are so many possibilities!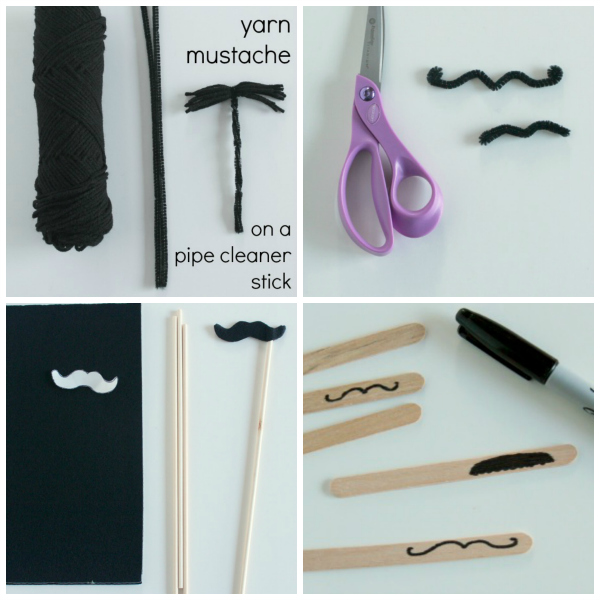 5 Easy Ways to Make a Mustache
1. Yarn Mustache:
Cut 10-12 pieces of black yarn, about 2-3 inches long, depending on how full you want your mustache. Take one piece of pipe cleaner and wrap it around the center of the yarn and fold it in half and twist. Continue to twist the pipe cleaner all down the way. Now it's ready to hold up to your face for a sweet stache.
2. Pipe Cleaner Mustache:
Cut one black pipe cleaner in half and twist it up to your liking. You can curl the ends for an even more mischievous look! To make it a stick, twist another pipe cleaner around just like the yarn stache above.
3. Classic Mustache on a Stick:
Trace a mustache shape onto sticky back felt. Cut out two mustache shapes from the sticky back felt. Place the mustache stickers back to back around a thin dowel stick on one side. It's ready to place under your nose and pose! These fun mustaches are also a great addition to a photo booth!
4. Popsicle Mustache Stick:
With a black permanent marker, draw a swirly or furry mustache design on one side. You're ready to hold it up over your top lip and smile. So easy, even the kids can get in on the fun!
5. Sticker Mustache:
You can go the easy way out, which is just as fun, and buy a set of mustache stickers. I found this thin set at Michael's Stores and the fuzzy ones from a local gift shop in town, Atomic Boys. These are set and ready in my purse for a few mustache-bombs just waiting to happen! There are several different mustache styles to match any look!
Listen to their wise words…"Don't be caught in public with a naked upper lip!"
Here's a collage of some of the shenanigans, thanks to @JaniSerendipity, @SoThisisJulie, @ChefJYH, @lizardnladybug for the pics!
Are you with me? Come join the fun. "Make and Take" one of these 5 easy ideas for making a mustache and add the hashtag #mustachebombing on Instagram and Twitter!