Prepping for a family Disneyland trip can be quite a task. If you want to have a truly magical time, there are a few things you can do that will help make it perfect. Here are 8 Must Haves for making your Disneyland trip go smoothly.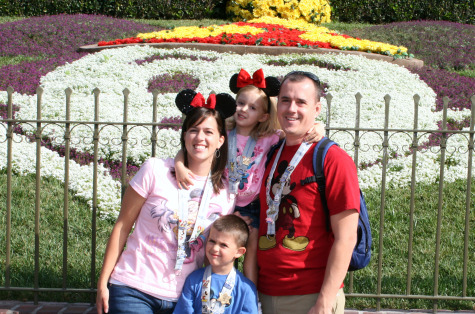 8 Must Haves for a Family Disneyland Trip
1 – Good shoes. Bring a good pair of walking shoes as your feet will be stomping all over the place, even running to each ride if you're like us! Flip Flops might seem easy, but after a whole day walking in them, you'll be wanting something more supportive. So make sure to bring a good pair of shoes, complete with comfy socks.
2 – Matching shirts. Disneyland tends to be a crowded place. It's a good idea to wear similar shirts as a family so everyone can be easily spotted. Even if you geek out in Mickey and Minnie attire, who cares, you're at Disneyland. Or you can be like my sister and her family of 10 and all wear NEON green shirts, making sure they spotted each other in the crowds!
3 – A babysitter for the baby. Yes, we did it. Thanks to the help of close friends and family, we left our 1 year old at home. And oh can I tell you it was worth it as we were able to cruise the park fast and furiously. I just hope one day she won't say "Remember that one time when you left me home?" But she'll get her turn one day soon!

4 – Don't forget the camera. We're the total camera-at-every-magical-moment family! We take video, use our camera phone, and even the kids get to take some pictures! But I do suggest on one of the days you leave your camera in the hotel room so you can just enjoy the park for what it is.
5 – Snacks and a water bottle. When you're at Disneyland from morning to midnight and the lines are long, you're going to find your kids in need of water or snacks. It's a good idea to bring a Nalgene bottle and a few granola bars in your pack, so when you're in line or have a break, you can re-fuel. Otherwise you'll pay $3 for a tiny bag of chips!
6- Fanny pack. You heard me, a fanny pack. They actually sell some cool lightweight packs these days to carry all your park hopping accessories. It was great to have a lightweight pack to keep our traveling supplies in. No loose change will go flying out of pockets on the Tower of Terror!
7 – Stroller. No matter how old your kids are their little legs get tired. So be prepared with a stroller just in case. You can keep it at the hotel or in your car, or rent one at the park. I promise it's worth it. It will save you from sore shoulders and whiny children.
8 – Bring your appetite. There's lots of yummy "must have" treats at Disneyland. My husband and I live for the MONTE CRISTO! I think we ate 2 of them during our stay, yikes! But it's one fun thing we look forward to when we go to Disneyland. There's also the Pomme Frites (fancy fries) from Cafe Orleans, the Mickey Ears ice cream bars, and the frozen lemonades. Yes, we also starve ourselves the weeks before to make room for all these goodies!!
Great places to eat while at Disneyland:
Blue Bayou – just note, their Monte Cristo is only served at lunch
Cafe Orleans – across from Blue Bayou, also serves the Monte Cristo and those yummy fries!
Character Breakfast – you must experience this once. We loved Goofy's Kitchen.
Red Corn Dog Truck – on Main Street. Soooo good!
Dole Whip – in front of the Tiki Room
Bengal BBQ – yummy bbq skewers in Advertureland