Tomorrow is the first day of spring! We're off to a very rainy start around here – our house could definitely use some spring color to brighten things up.
To welcome spring, we made cheery flower collages on accordian-folded strips of cardboard for a spring flower collage. They stand up on my mantle and make us dream about gardens full of blooming flowers. Aren't they pretty?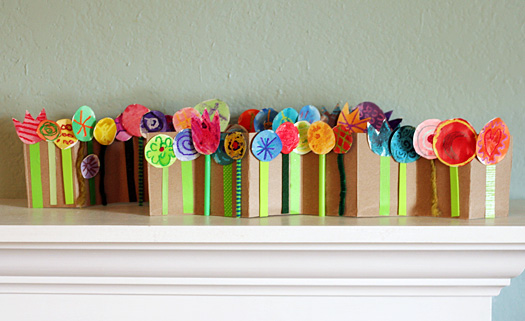 You're going to love this super easy spring craft. Grab your kiddos and get started here. You will need some sturdy paper, poster board, or light weight cardboard for your base. I cut a cereal box into three strips for our project. Accordion fold your strips, so your finished piece will be able to stand.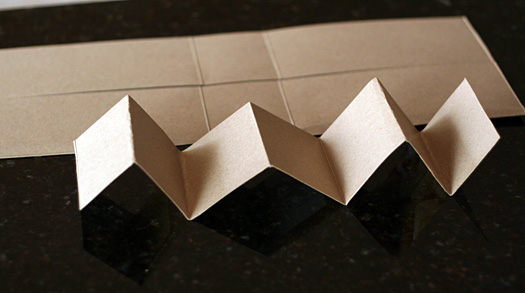 Time to gather your stem collage items. I gathered these ahead of time and presented my girls with a "stem buffet." Your kids might enjoy helping you with this step, too.
Accordion Folded Spring Flower Collage
Supplies:
plastic straws
pipe cleaners
strips of colored & patterned paper
felt
craft foam
yarn
ribbon
popsicle sticks, painted green
green tape
draw stems with green crayons, markers, paint, etc.
Instructions:
Once you have all your stem materials gathered, glue, tape, and draw stems on your board. Be prepared – pipe cleaners take a lot of glue to stick! Set this aside to dry while you work on your flowers.
There are many different ways to make your flowers – use what you have on hand! This is a great time to use up extra craft supplies. We cut circles and tulip shapes out of watercolor paper. The girls made designs with oil pastels and crayons, followed by watercolor painting.
If you're needing other ideas for flowers try there: colored paper shapes, mini cupcake papers, flower pictures cut from magazines and catalogs, or flower stickers.
When your flowers are finished and dry, attach them to your stems. We used a combination of glue stick and white glue for this part. Glue dots would also work great, with no drying time. Using glue is good hand-eye coordination practice.
That's it! Easy right? Now you have some cheery flowers to tide you over till the real ones are blooming. Display this on your mantel, in your child's room, on the fridge, or hang it from the wall. My girls also decided these would make great backdrops for their Playmobil and animal set-ups. So super fun!
Happy Spring everyone!