If you've joined the adult coloring books craze, then you know it isn't going away anytime soon… I'm addicted! These books are so easy to pull out of a bag with a set of pencils and you're mesmerized. It's such a great way to relax, zen out, and feeeeel the creativity.
The best part of these coloring books, there's no rules. It's just like that big book of coloring pages you had as a kid… scribble all over it if you want! But, I've found it so fun and methodic to take my time, really getting into it. I've found some really fun ways to get creative while simply coloring. Here are my tips for coloring!
Adult Coloring Books
With summer approaching, these are great to have on hand for all the places your family might go. From the park to the pool, adult coloring books are a great way to find your creativity anywhere you are!
Or if you're looking for some indoor zen, turn on Netflix and stream all your favorite shows while you color. Master of None, Sense 8, even some good ol' creative inspiration Chill with Bob Ross while coloring!
5 Must-Haves for Adult Coloring Books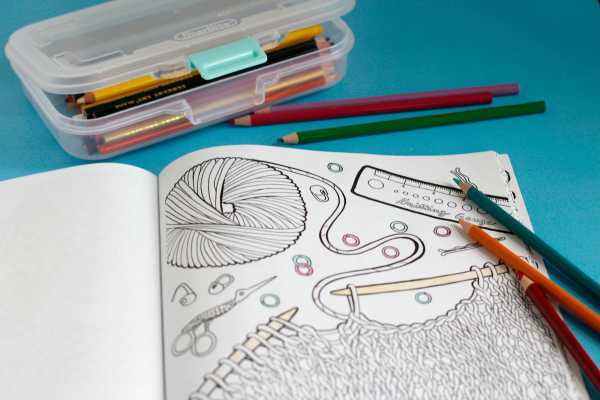 1. Coloring Books
There are so many great coloring books out there, something for everyone. You can get them online or in-store, even downloadable books you can print yourself. I love this Knitter's Coloring Book pictured above. We also have this Mandala Book and Enchanted Book. Even the kids love these books too,my girls love this Harry Potter Coloring Book! We also love a coloring book that has perforated edges and can be torn out easily and added to the fridge or a frame for decoration!
2. Pencils or Thin Tip Markers
Grab a set of coloring pencils to go a long with your books. Coloring pencils work well for shading and some different textures. Or you could go the marker route and get some thin tipped markers. These work really well for coloring in a bit quicker and have a bold look!
3. Pencil Case
You can get a case that is clear plastic case so you can see through to know what's inside. There's also some really darling fabric pencil cases that are fun for carrying around. Either are great for carrying your pencils or markers, or both!
4. Pencil Sharpener
Be sure to grab a small pencil sharpener to stick in the case if you're using colored pencils – or go all out and get yourself an electric pencil sharpener!
5. Coloring Tote
You'll need a cute coloring tote to put all your new fun gear inside! Take it to the pool or to the park with a picnic! There are fun totes you can also color as well, or totes that share your love of coloring!
You're all set! Grab one of these books below and you're ready to relax and enjoy the creative process!
This post contains affiliate links. Thanks for supporting Make and Takes!