I was never very good at utilizing my freezer. Like most people, my freezer was generally full of food that I never used.  I hate thinking about how much of that food ended up in the trash! Then I discovered the art of tray freezing cookie dough balls…a brilliant yet dangerous art, let me tell you. Once I started freezing my cookie dough this way, my brain finally clicked and I realized that just maybe this technique could be applied to other foods as well.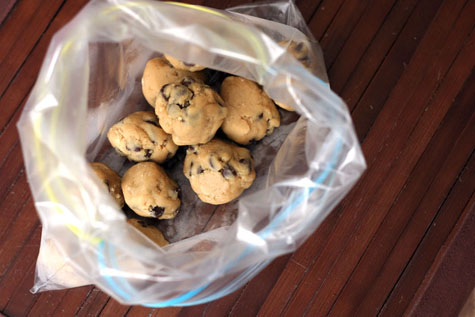 Tips for Tray Freezing
I recently read a Mark Bittman article in the NY Times about freezing food. If you have not read this article, hop to it! It is an invaluable resource chock full of great tips and information regarding freezing food.  The article was just what I needed to broaden my freezer-burned horizons and get my freezer doing the best job it can do.
In case you are wondering what "tray freezing" is – well, it's simple. Have some food you want to freeze? Spread it out on a large tray or cookie sheet – you can line the sheet with wax paper to minimize sticking and cut down on cleaning time. Stick the tray in the freezer.  Close the door.  After a few hours, dump the food into a plastic zipper bag and you're done!
I have fallen in love with this technique.  In addition to cookie dough I've used it for berries, meatballs, vegetables and breadcrumbs.  Some vegetables may need to be blanched first…just do a quick google search to help figure that out.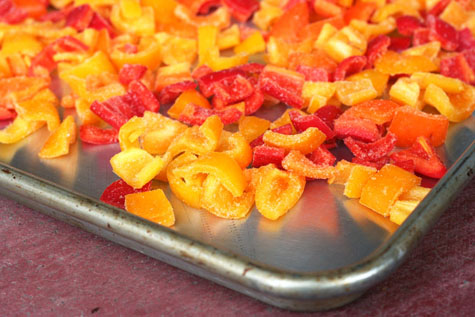 A quick case study: bell peppers.  I purchased a large bag of mini sweet bell peppers at Costco, which were threatening to go bad in my fridge. I chopped them up, applied the tray freezing technique (no blanching required for peppers) and voila! Chopped peppers at my fingertips and no wasted food.  Love it!
If you haven't done any tray freezing, give it a try.  If you're a pro, please share your favorite foods for tray freezing and any other tips you may have!
Pin this post for later: