Cinco de Mayo is such a fun holiday to celebrate with friends and family. The colors, the food, and the vibe are all so festive. Do you need a refreshing drink to serve for Cinco de Mayo? Then look no further than Agua Fresca.  Agua Fresca means "fresh water" in Spanish and is made with fresh fruit, water and ice.  Sometimes a little sugar is added as needed. You're going to love this drink- and so will all your party guests!
Agua Fresca for Cinco de Mayo
This is not a sugary, too-sweet, thick smoothie.  No.  It's a thirst-quenching "ade" that highlights the natural flavors of the fruit, grains, seeds, or flowers used.  This can be made with any fruit you like.  Typically you'll find recipes for melon and tropical fruit flavors.  Interesting flavors to try are Agua de Jamaica, made with hibiscus flavors and is sometimes spiced with a lot of ginger.  Chia seed agua fresca is popular in Mexico, as is Horchata, made from rice.
Our family likes to make these throughout the year, but particularly during the Spring and Summer months when the fruit stands are brimming with fresh seasonal fruit.
Our kids really like orange, mango, strawberry and pineapple.  When my garden is in full bloom, I will add fresh herbs.  Mint or basil go really well with most fruit flavors.  Thyme is marvelous with strawberry.  Lavender goes well with blueberry.  For peach drinks, I sometimes add a little vanilla
Sometimes to give ours a little kick, we add freshly grated ginger instead of herbs.
My friend, Natalie, gave me the idea to transfer homemade juices to reused French lemonade bottles.  It's an easy way to transport them to picnics or give them away as gifts. Plus it looks super chic and great for parties.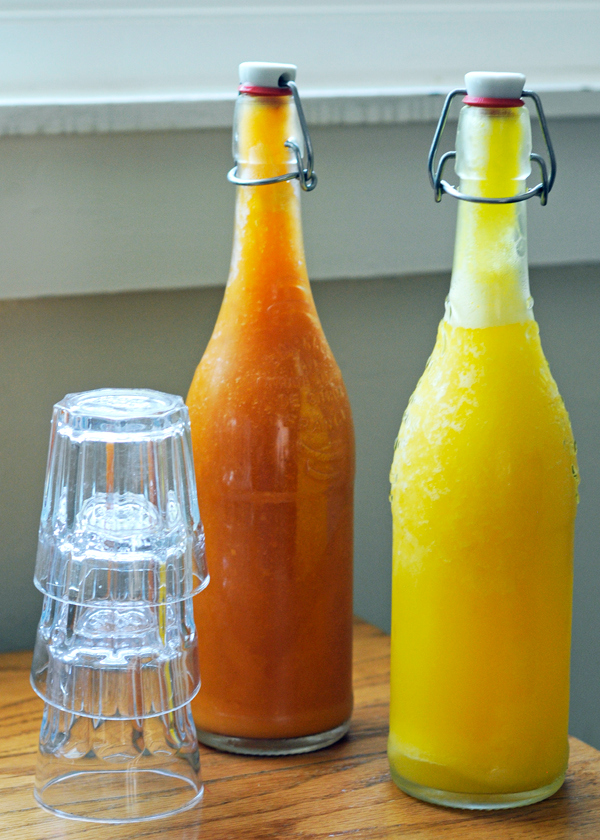 Picture above–apricot and pineapple agua fresca. Aren't they gorgeous?
There isn't a set recipe I use. I just fill my blender with cut fruit, add water and ice, a little lime or lemon juice, and agave nectar to add some sweetness if it's needed.  A quick puree in the blender and it's ready to be served. It's as simple as that. And SO delicious.
Here are some other ideas and recipes:
Happy blending and happy Cinco de Mayo!