With summer in full swing and barbecue weather upon us, my grill has been getting quite the workout. Even so, the ultimate barbecuing holiday is only a week away, and I can already smell the scent of burgers and corn on the cob wafting through the neighborhood. Though I have yet to start planning the holiday menu, there's one thing I know for sure: a summer barbecue just wouldn't be complete without a cold glass of strawberry lemonade.
Strawberry Lemonade
While the classic lemonade will always hold a place in my heart, sometimes it can be a fun idea to play around with new flavors. With strawberries in season, a pint can go a long way into creating a rosy red strawberry lemonade. While the strawberries add sweetness, the fresh tart lemon juice works to balance it out. Garnished with strawberry slices and a sprig of mint, the combination creates a vibrant beverage that will help you beat the heat.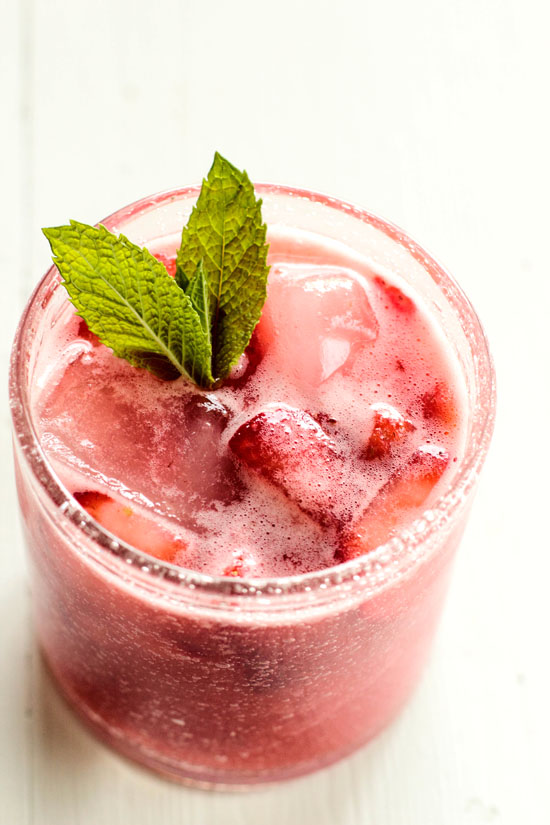 This lemonade has a few tricks up its sleeve. If you are having a get-together and want to serve something a little more festive, add a lemon-lime soda to create a fizzy, vibrant punch. Or, for the adults in the room, this would be wonderful spiked with a little tequila—it could definitely pass as a strawberry margarita.

Strawberry Lemonade Drink Recipe
Yields about 1 1/2 quarts
1 pint (16 ounces) strawberries, quartered
1/2 to 3/4 cup (100-150 grams) granulated sugar
4 cups (950 ml) water
1/2 cup (120 ml) freshly squeezed lemon juice (2-3 lemons)
In a large skillet, place the quartered strawberries, sprinkle on 1/2 cup granulated sugar, and allow to sit for 5 minutes to begin releasing the juices. Add the 4 cups of water and bring the mixture to a boil over high heat. Reduce the heat to a simmer and cook the strawberries for about 20 minutes to release all of the flavor. Taste the juice; if it is not sweet enough, add a tablespoon of sugar at a time until it reaches your desired sweetness. Remove from heat and allow to cool until lukewarm.
In a food processor or blender, process the strawberry mixture until smooth. Strain through a fine mesh strainer and discard the solids. Add the lemon juice and refrigerate until cold before serving. If the strawberry mixture is too thick, thin it with a bit of water—you won't sacrifice the flavor. Garnish with strawberry slices and a sprig of mint.