Antipasto Flatbread Pizza is one of the best flatbreads you will ever try and it is ready to be served in less than 30 minutes!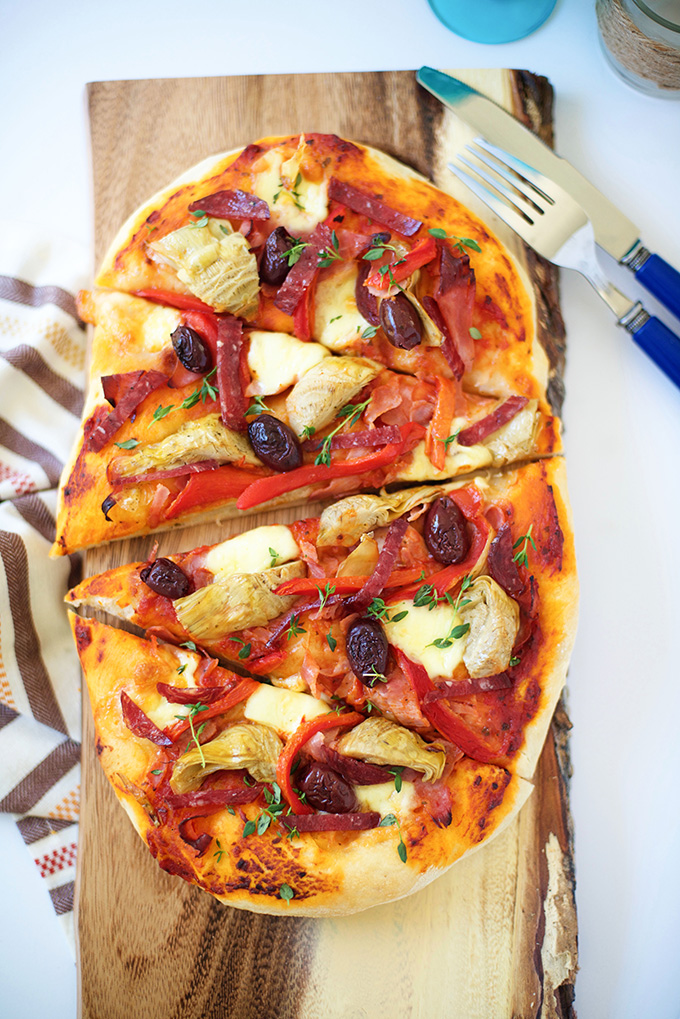 Antipasto, which means "before the meal," is one of those delicious colorful combinations of small bites of delicious food that everyone loves! Rustic artisan breads, marinated artichoke hearts, roasted red peppers, olives, deli meats and mozzarella. Who can resist them?!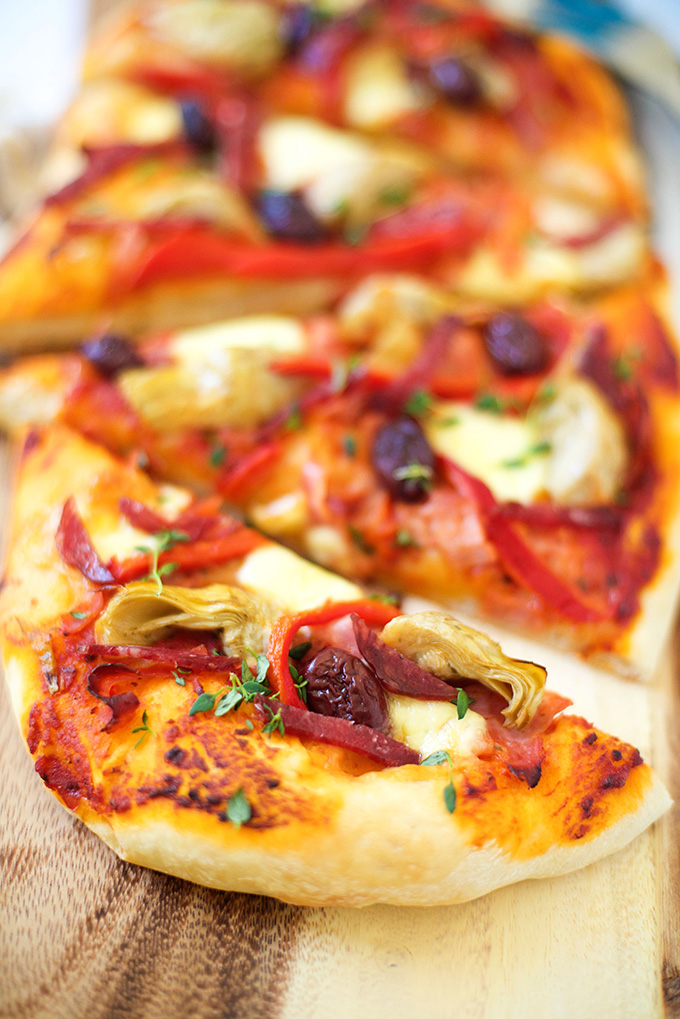 For today, I wanted to bring all these heavenly ingredients together and create the perfect Antipasto Flatbread Pizza! Crispy crust, layered with some pizza sauce, a bit of drizzled olive oil and topped with marinated artichoke hearts, roasted red peppers strips, salami, prosciutto, olives and some fresh mozzarella.
I usually buy fresh pizza dough to make the crust, roll it and add the toppings on top but if you want the crust ready, you can use Naan breads for the base.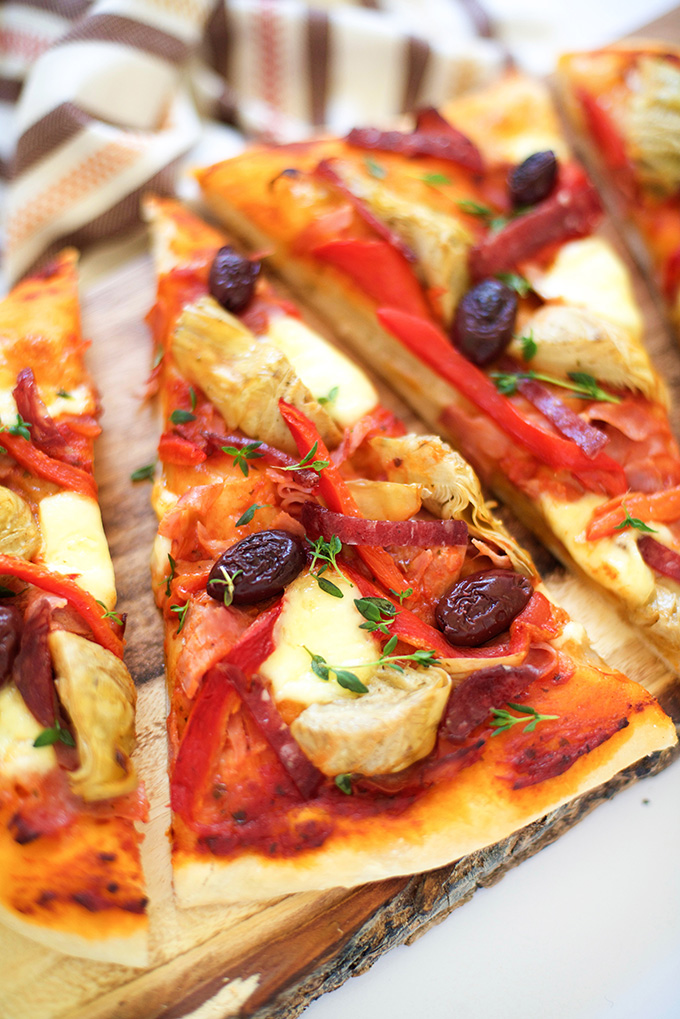 This is one of those perfect recipes that you can certainly make it your own! You can change up the crust or use different or fewer toppings to your liking. Save this recipe and try it next time you're having a party! Everyone is going to love it!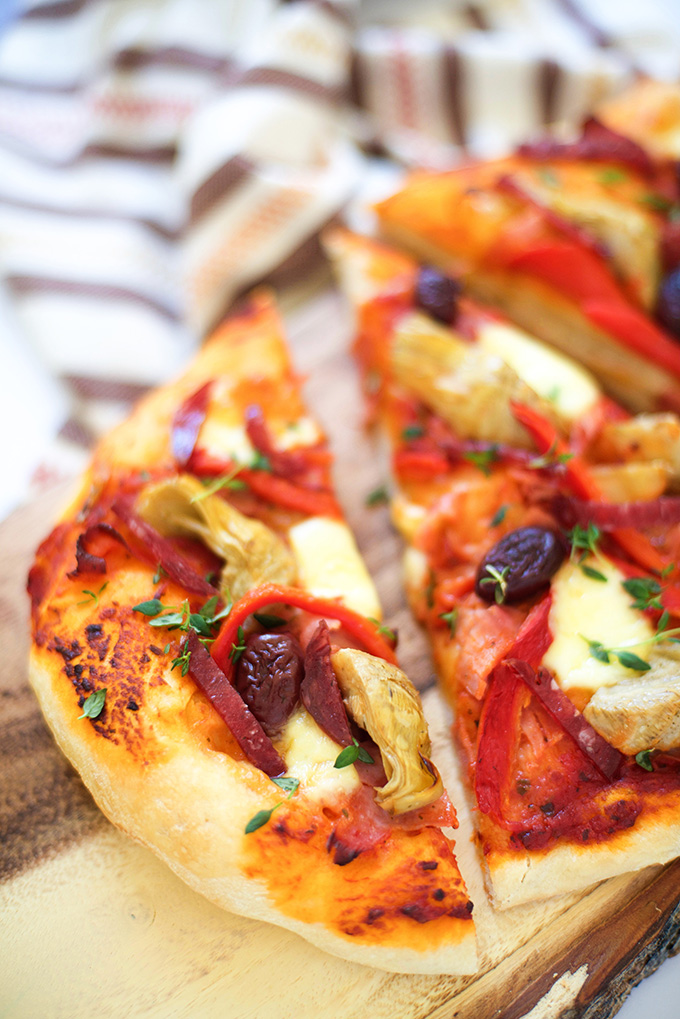 Antipasto Flatbread Pizza Recipe
1 pack store-bought Pizza dough or 2 Naan breads

2 tablespoons pizza sauce

1 tablespoon olive oil

6 prosciutto slices, coarsely shredded

2 tablespoons salami roughly chopped

marinated artichoke hearts (store bought jar)

roasted red peppers, thickly sliced

 2 tablespoons pitted Kalamata olives

8 bocconcini, cut in half
Method
Preheat oven to 400F/ 200C. Prepare 2 baking trays and line them up with baking paper.
If you're using fresh dough, divide it into 2 even portions. Roll each portion and add them to the baking trays. Drizzle olive oil and spread pizza sauce over each base. Arrange prosciutto, salami, artichoke hearts, roasted red pepper slices, olives on each pizza. Top with bocconcini. Bake in the oven, swapping trays halfway through cooking, for 15-20 minutes or until golden brown and cooked through. Remove from oven. Top with some fresh thyme and serve warm.